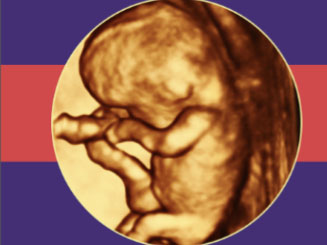 UPDATED
Millennial disconnect: life starts at conception, 'but I can't tell someone else what to do'
College students are being confronted with a question they may have never considered: When do human rights begin?
That's the point of a new traveling project by Students for Life of America. The Human Rights Tour has sparked several positive discussions on campuses around the country, organizers told The College Fix.
SFLA staffers come to each campus with a display that shows the stages of fetal development. Students who pass by the display are asked to place stickers on the timeline corresponding to the point at which they believe human rights begin.
Kristan Hawkins, president of the group, told The Fix by email her group wants to "educate and challenge" students by showing them "the scientific development of a human from fertilization to birth."
Students "will be led to think more deeply … about the value of human beings," Hawkins continued. "We believe many college students really haven't thought in-depth about this question or have had the chance to formulate their own beliefs on the topic."
Until Wednesday morning, the tour website – live for a month – had only named 13 out of 27 universities that SFLA initially had pledged to visit. As of Tuesday night, the tour was slated to hit six more campuses, though only one – the University of Wyoming – had a confirmed date.
A map under the list appears to show more than two dozen pins representing unnamed schools across the country.
On Wednesday morning, after this article was published, several more March dates had been added for schools, bringing the total of past and future scheduled visits to 17 schools. Another nine schools are listed with no confirmed dates.
The website also listed the wrong Web address as of Tuesday night as the source for information on its tour display, edh.org, whose website is empty except for advertising links.
By Wednesday morning, the address had been changed to ehd.org, the website for the Endowment for Human Development, which provides prenatal development resources.
 'I never really thought about this before'
Staffers Emily Wilkinson and Missy Stone have traveled with the display to colleges in California and Arizona, including UCLA and Grand Canyon University. They told The Fix the display has served as a catalyst for thoughtful discussions about rights for unborn children.
Wilkinson said in an email that most reactions were positive.
"A majority of students were willing to take a sticky note and vote on our timeline, though not all stayed to dialogue with us," Wilkinson said. "Of those who did, regardless of the outcome of the conversation, MANY said 'I never really thought about this before.'"
"The reactions were a lot better than I anticipated, especially since we were in SoCal," Stone said. "I was expecting more hostility, but really it was mostly positive."
Negative reactions were limited to "the few who walk past and curse under their breath," but that's a reaction to any pro-life display, Stone added.
"A lot of people thanked us – for simply being there, for inspiring conversation, or for the way we presented the issue," Wilkinson said.
Language of rights 'resonates more with young people'
The method behind the display was an important factor in its success, the women said.
"We had multiple students say things like, 'Oh, the heart starts beating at 3 weeks!' They would read through and tell us that they had no idea pre-born children developed so quickly," said Stone.
"I think it's a great way to approach the issue because it's non-confrontational and we're asking the question, 'when do human rights begin?' not 'when does life begin?'" she continued. "I think that kind of language resonates more with young people."
Wilkinson noted the word "abortion" doesn't appear on the banners. "Although the display serves an educational purpose with the use of striking photos of prenatal development, its primary purpose is to be deeply thought-provoking."
Not all the conversations resulted in a call to action, however.
Wilkinson said she "wasn't prepared for" a trend of students "choosing conception with their vote, and then paradoxically expressing in our conversations, 'but I can't tell someone else what to do.'"
Such a reaction 'perfectly exemplifies the prevailing disconnect in the millennial generation and a culture that views morality, along with everything else, as a personal preference that shouldn't be legislated," Wilkinson said.
Anyone can take the tour survey – just a single question on a Google Form – at the tour website. Users who complete the survey must include their email addresses.
SFLA responded to Fix inquiries about the website Wednesday morning, noting that the website irregularities had been resolved.
UPDATE: This article has been amended to reflect that SFLA has updated the incorrect and missing information from the tour website since publication.
College Fix reporter Genevieve McCarthy is a student at Thomas Aquinas College.
Like The College Fix on Facebook / Follow us on Twitter
IMAGES: Students for Life of America