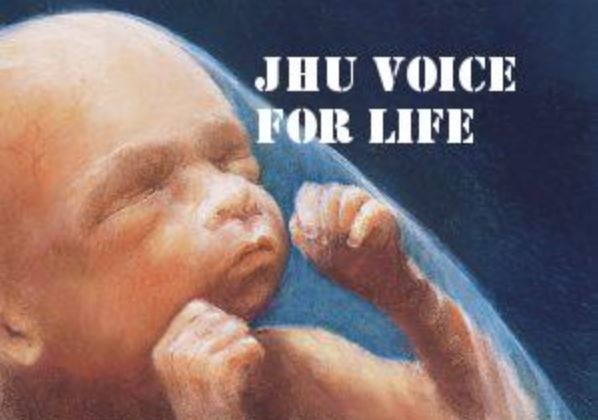 A pro-life student group at Johns Hopkins University was recently denied official campus club recognition by the college's student government, whose members called the pro-life students' desire to sidewalk counsel near abortion clinics "harassment" and their message "hate speech."
Meanwhile, the same night the pro-life student group was denied, student government members approved official campus status for Students for Justice in Palestine.
In denying official club status to Voice for Life at Johns Hopkins University, student government members claimed "sidewalk counseling off campus at a Baltimore abortion facility 'clearly violates the JHU Harassment and Code of Conduct policies,' " a Students for Life of America report stated.
Student government members, in their rejection, also referenced one link on the pro-life student group's website which sends visitors to the Center for Bio-Ethical Reform's website, judged to be "offensive," the report stated.
The center has brought its Genocide Awareness Project to the area before, and the display features images of aborted preborn babies, as well as Holocaust and lynching victims.
Voice for Life's cause is slated to go before to the student government's judiciary committee on April 9. Meanwhile, the situation has caused controversy and concern.
A former student government official wrote to current members on the dais in support of Voice for Life, arguing that denying the pro-life group official status is "viewpoint discrimination," according to Students for Life of America's report.
Students for Life also published a copy of an email thread between Johns Hopkins University student government members that linked prolife students to a White Student Union group whom some refer to as racist:
One top (student government) member sent a simple statement, "And this is why we don't approve groups like Voice for Life," and linked to a Think Progress article entitled "Racist Hate Group To Conduct Nighttime Patrols On College Campus" about (what some call a) white supremacist group at Towson University called the White Student Union. This association is particularly offensive to Voice for Life members, especially its African American members.

(Another student government member) said in the e-mail chain that she objected to Voice for Life because of the Genocide Awareness Project display … saying she and others "felt personally violated, targeted and attacked at a place where we previously felt safe and free to live our lives … this sidewalk attack on how abortions are hateful and such amounts to hate speech."
Voice for Life President Andrew Guernsey has his own take on the matter.
"It is inconsistent with the JHU's motto 'The truth will set you free' for the (student government) to try to hide its students – many future doctors and nurses – from the truth about abortion and how it hurts women, families and, most of all, innocent preborn babies," he said. "In fact, at the abortion facility a block from Hopkins campus, a woman died this month and the Maryland government had to step in. If someone was there to sidewalk counsel on that day, that woman and her baby might still be alive today."
He went on to note that Voice for Life previously existed as an official Johns Hopkins University campus organization between 1995 and 2010 and students hope to revive the group.
"We just want to exercise our right to free speech and association, but the (university's student government) decided to reject us with their repeated assertion that sidewalk counseling constitutes harassment," he said in the Students for Life report. "(Their) persistent opposition to Voice for Life, despite their lack of authority to determine and apply university policy, reveals an underlying intolerance of the pro-life position."
Click here to read the full Students for Life of America report.
CLICK HERE to Like The College Fix on Facebook.
IMAGE: Students for Life of America