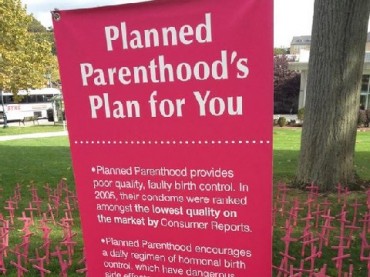 Clash over condoms, gay sex and abortion unfolds at Jesuit university in Connecticut
It all started in October with rows of crosses. Pink ones. Nearly 1,000 of them.
They were neatly spread along a lawn at Fairfield University – a Jesuit-Catholic liberal arts college in Connecticut. The crosses stood as a representation of the 915 or so abortions that take place daily inside Planned Parenthood's clinics nationwide.
The display was put up by Fairfield University's Students for Life, and aimed to encourage "students on our campus to turn away from Planned Parenthood's exploitation and to turn towards life-affirming resources," according to the club's Facebook page.
One might think that such a display would be innocuous at a campus that touts itself as a "Catholic university in mission and spirit."
But it was all too much for some students, who accused their pro-life peers of putting up an offensive and insensitive pink "graveyard." Critics included co-president of the campus' College Democrats, who told the Fairfield Mirror student newspaper that she and others felt the display was "classist, racist and homophobic." 
Comments about the October pro-life exhibit on the school newspaper's website called it "a cheap and offensive attempt at shock value." Said another: "You and your peers created a hostile environment for students here."
A third chimed in that the display "had no consideration for the perspectives of the student body and the goal to have an inviting and strong sense of community as our campus atmosphere."
The pro-life display led to a dueling exhibit at the university late last month. The Gay Straight Alliance and the College Democrats rallied together in defense of homosexual sex and various safe-sex methods in an event partially funded by the university through its politics department, the Mirror reports.
The College Democrats hosted the event, called "Let's Talk Sex," with the help of Planned Parenthood representatives. It included a spread of tables addressing different topics, from "all the types of sex that can be had" to an "interactive" Planned Parenthood station.
A large, colorful poster board put up by Gay Straight Alliance "discussed all the types of sex that can be had, not just heteronormative sex but homosexual sex, the ways you can protect yourself, and the truth behind HIV," student representative Brigid Callahan told the Mirror.
"Let's Talk Sex" caused some additional controversy because campus officials did not allow students to distribute condoms during the event. Its organizers voiced anger and frustration over that edict.
But administration approved of the overall "Let's Talk Sex" event in order to "encourage students to take advantage of the opportunities these organizations offer for growth and leadership," said Martha Milcarek, vice president of public relations at Fairfield, in an email to The College Fix.
"Let's Talk Sex," according to Milcarek, is necessary for "an environment that promotes freedom of expression and the free exchange of ideas."
"As a Catholic institution we, of course, stand by the teachings of the Catholic Church that includes the respect for all life," she added.
Campus Ministry, perhaps one of the last remaining conservative strongholds on campus, declined to comment on the event to The Fix.
College Fix reporter Anthony Gockowski is a student at the University of St. Thomas.
Like The College Fix on Facebook / Follow us on Twitter
IMAGES: Facebook screenshots