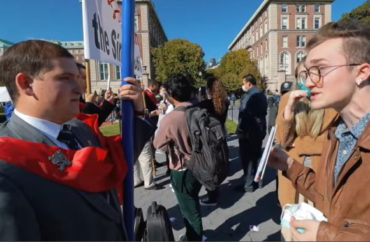 The debate over abortion continues to be one of the most controversial and hotly contested issues among young people today, and no where does that tension play out more intensely than on America's college campuses.
Recently, pro-life students set up displays at two of arguably the most liberal campuses in the nation: San Francisco State University and Columbia University. The displays prompted emotional debates, vandalism and more.
At San Francisco State on Tuesday, the College Republicans there set up a pro-life display that included chalking "unborn lives matter" and pink flags honoring aborted babies.
In videos and photos made available by the group on Wednesday, fellow students can be seen pouring water over the chalk messages and wiping it away with their feet.
When a member of the College Republicans asks why they are destroying their university-approved display, one student vandal responds it's her First Amendment right to shut down speech she disagrees with.
"Destruction isn't the answer. But should we be surprised when the left has been canonizing criminals and encouraging lawlessness for the last year? Abortion is murder and these students need to hear that; the truth hurts, and we will keep putting the truth out there," said Nancy Barragan, president of the College Republicans at SFSU, in a news release.
Meanwhile, across the nation at Columbia University in New York, the Catholic group TFP Student Action set up a pro-life banner at the Ivy League campus recently — and sparks flew.
The group on Wednesday released video of the October 28 demonstration.
In it, students upset by the display can be seen chanting, debating, and at one point even spraying pepper spray near the pro-life students. Another woman is caught on video attempting to run off with TFP's fliers.
"It did not take long for a hostile crowd to gather in front of the members and their banner, which read, 'Pray and act to end the sin of abortion,'" TFP Student Action said in a news release. "Screams and insults filled the air. One TFP volunteer was spit on."
The two incidents come on the heels of another recent situation at Saint Louis University during which the SLU chapter of Students for Life had their "Cemetery of the Innocents" flags angrily ripped up by two peers.
These incidents are not outliers.
Pro-life campus groups routinely have their displays vandalized or destroyed, according to The College Fix's Campus Cancel Culture Database.
MORE: Check out the Campus Cancel Culture Database
IMAGE: YouTube screenshot
Like The College Fix on Facebook / Follow us on Twitter