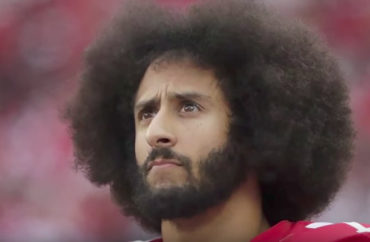 What's the big deal about NFL quarterback Colin Kaepernick not yet being signed by a team?
It shows how utterly racist the league — and America — remains, according to a Washington State University professor.
David Leonard of the school's Critical Culture, Gender, and Race Studies Department says football, like racism, is a pastime "as American as processed apple pie."
Leonard writes in Newsone that "[m]ost people were OK" with the fact that the NFL once permitted only whites to play, as football is "shaped by nationalism and Americans' fetishization of a masculinity based in violence and conquest."
The league's 32 teams' refusal (thus far) to sign Kaepernick "fits with the NFL's business model," which is a continuing "instrument of anti-Black racism."
The very issues Kaepernick is protesting, from mass incarceration to police brutality, remain fixtures of contemporary American life. They, too, are consequences of a country where everything from sports to law enforcement is shaped by masculinity and whiteness, racism, misogyny, and homophobia, just like football.

Kaepernick kneeled in hopes that white America would look in the mirror, holding account of its historical failure to honor Black life … to respect, protect, and empower all Black lives. Yet, we continue to push the hand holding the mirror away from our faces. …

To stand or kneel with Kaepernick requires challenging the logic of anti-Black racism. It necessitates fighting against the demand that he "shut up" about white supremacy if he wants to play. It necessitates questioning why formerly incarcerated people must check the box and learn how the language of the criminal justice system shapes conversations about sports, schools, and spaces and places inhabited by Black people.  It demands we, white people, question the presumption of guilt, of criminality, on NFL rosters and in the streets of American cities.

If WE, white America, really understand Colin Kaepernick, we must look at ourselves, asking why we are repulsed and outraged by those demanding racial justice, but find pleasure in the destruction of Black bodies on and off the field.
To better understand just where Professor Leonard is coming from, in the past he has advocated "the abolition of prisons, the Electoral College, and implementation of universal healthcare as reparations for America's 'history of racist violence,'" and once opined that Amy Schumer's comedy was partly responsible for Dylann Roof's racist killings of nine people.
Leonard also is down with the attire apparently associated with his area of expertise ("My wardrobe of jerseys, hoodies, baseball hats, and sagging jeans"), but points out that his professionalism is never questioned while he's so clothed. That's because he's white, you see.
MORE: Law profs: Colin Kaepernick could sue NFL for race discrimination
MORE: Large group of protesters sit, raise fists during national anthem at UNC football game
Like The College Fix on Facebook / Follow us on Twitter
IMAGE: YouTube