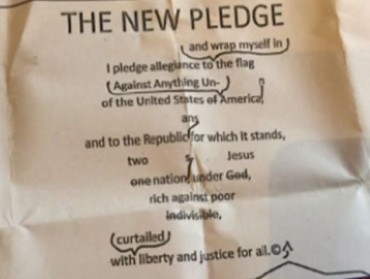 Officials: 'There was no violation of the students' first amendment rights; faculty member exercised his right to academic freedom'
Administrators at Metropolitan State University of Denver have determined that a professor who forced his students last fall to recite a satirical anti-American pledge of allegiance that characterized America and Republicans as racist, homophobic, sexist and anti-poor did absolutely nothing wrong.
"The university concludes there was no violation of the students' first amendment rights, and that the faculty member exercised his right to academic freedom, and considers this matter closed," campus officials have determined as a result of a probe into the matter.
Last December, Professor Charles Angeletti's assignment made national headlines after Steven Farr, a freshman at Metropolitan State University, told news outlets that it offended him.
"So we started the pledge and then the professor insisted that we weren't speaking loud enough, so he had the class restart the pledge," Farr told Fox News. "And I looked around and – when a
professor asks you to do something, it's kind of like when your boss at work asks you to do something – so most people were participating. I, however, was not."
The controversial pledge stated:
"I pledge allegiance to and wrap myself in the flag of the United States Against Anything Un-American and to the Republicans for which it stands, two nations, under Jesus, rich against poor, with curtailed liberty and justice for all except blacks, homosexuals, women who want abortions,
Communists, welfare queens, treehuggers, feminazis, illegal immigrants,
children of illegal immigrants, and you if you don't watch your step."
After Farr spoke out about the incident, the university began an inquiry. Soon after, they quietly released their not-guilty verdict in mid-December. When The College Fix contacted the campus earlier this week to find out the results of the inquiry, a media spokesperson pointed to their online statement on the matter.
Angeletti and Farr did not respond to requests from The College Fix seeking comment this week.
The university's inquiry that cleared the professor of any wrongdoing consisted of officials conducting interviews with Farr, Angeletti, and a "random sample of students who withdrew from and remained in the course."
"Farr was the only one who cited Angeletti's teaching methods as the reason for dropping the course," officials stated. "The interviews concluded that the anti-pledge written by Matt Groening, creator of 'The Simpsons,' was disseminated to the class. Angeletti confirmed that he has been using the anti-pledge in his course for more than 20 years, and that he provides a 'critical approach' handout on the first day of class that asks students to list 10 reasons 'why I am proud to be an American' and 10 reasons 'why I am not proud to be an American.' Angeletti confirmed that the anti-pledge was intended to be proactive and spark dialogue in the classroom."
"To date, no student has submitted a complaint," the university continued. "In general students were complimentary of Angeletti as a professor. All but Farr said he encouraged open dialogue and differing opinions in the classroom."
Yet this outcome contradicts other findings.
For example, Farr said in an interview with Fox News that when he asked Angeletti "if his class was going to be at all objective, or just his subjective political opinions," the professor replied "his class would be entirely subjective."
On RateMyProfessors.com, a website that allows students to anonymously critique professors, students have given Angeletti a 4.0/5.0 teacher rating. However, there are more than sixty comments, and many discuss Angeletti's biased teaching patterns.
One anonymous student states, "Delivers his own jaded and poorly informed agenda disguised as educational transmission. An attempt to twist and distort historical reality not teach." Other students state, "If you want to enjoy a purely socialist worldview then climb aboard," and "I do not recommend him for any of your classes. He's very opinionated on matters that he really isn't an expert on," according to Rate My Professors comments.
Although many students complained of Angeletti's teaching strategies, most students said they were truly fond of him as a person and professor.
"Charles is the best professor at MSU Denver. Not only will he change your perspective of the world but he will encourage you to become an independent thinker, challenge your own beliefs and become your own opinion," says an anonymous student on Rate My Professors.
A 2010 profile of Angeletti in the campus newspaper The Met Media described him as a "passionate and opinionated" educator in his 70s who has taught at the school for more than four decades.
It went on to describe the history professor as "a self-proclaimed cynic, socialist, atheist and number-one admirer of the late Howard Zinn."
College Fix reporter Austin Yack is a student at UC Santa Barbara.
Like The College Fix on Facebook / Follow us on Twitter