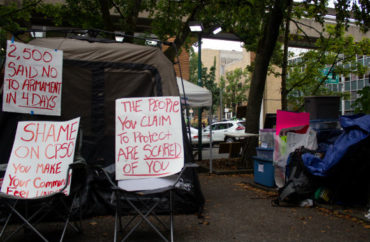 'Violent white supremacy moves fast, is flexible and it never changes its course'
PORTLAND, Oregon – Portland State University's unofficial student union has been camping in front of the Office of Campus Safety for more than a week, resurrecting its three-year-old push to revoke guns from the campus police force.
The trigger for the renewed activism was the shooting and killing of a black non-student Navy veteran, Jason Washington, by campus police responding to a fight outside a campus bar in June.
The administration wasted little time encouraging protesters to keep up the pressure by suggesting it might scrap the armed-police policy in response to the fatal shooting.
The self-described "radical" student union has even taken to asking instructors to let its members take over the instructors' classes to promote their anti-gun cause, though it's not clear how many instructors have accepted the offer.
We're doing class raps.

If you're a student or instructor who can get us some class time to win support for #OccupationforJason and #DisarmPSU let us know! pic.twitter.com/fFLozzmzqz

— PSU Student Union (@PortlandStateSU) September 25, 2018
Just an update: #DisarmPSU #jasonWASHINGTON #justiceforjason still going on with the occupy PSUCP still covered with tents and signage. pic.twitter.com/O7LrcYgwOW

— Autumn Berend | 秋 🍁 (@Autumn_Berend) October 1, 2018
'We warned the university that this would put black lives in danger'
One of the protesters, Kella Carlson of the student union (below), emphasized to The College Fix that the campaign known as #DisarmPSU preceded the actual decision to arm campus police, which was approved under the prior PSU administration.
"After the murder of [Washington], in the end of June, we started back up again," Carlson said:
We warned the university something like this would happen. We warned the university that this would put black lives in danger. People with mental health issues. Homeless students. Really anyone who's a target of police arming.
She noted that an autopsy revealed Washington was hit by nine of the 17 bullets that officers James Dewey and Shawn McKenzie fired at him.
Though witnesses said Washington was trying to break up a fight between his friend and another person, he appeared to be holding his friend's gun when the officers shot him, according to The Fix's frame-by-frame review of bodycam footage (below).
Washington's blood alcohol content was also three times the legal limit, according to a toxicology report, which may explain his slowness to answer when the officers ordered him to put down the gun.
Off-campus groups were the lead activists in favor of disarming campus police in the first week after a grand jury refused to indict Dewey and McKenzie. But student activism started in earnest Sept. 24, the first day of fall classes.
An unidentified professor of five years joined the students and community members at one protest.
"I'm ashamed we let students on the front lines and bear the brunt of the punishment for saying what they knew was true," the professor said, without explaining what punishment they faced. "I'm ashamed we thought we could bend the moral arc of the universe when we know that violent white supremacy moves fast, is flexible and it never changes its course."
MORE: PSU considers disarming campus police after officer-involved shooting
PSU professor spreaks out. Follows a chant "PSU Shame on you!" pic.twitter.com/Yf2BsZsx6B

— Autumn Berend | 秋 🍁 (@Autumn_Berend) September 24, 2018
"Unless we disarm psu police, this will continue." Says after video ends. Protest outside of Smith Memorial at PSU. @CollegeFix pic.twitter.com/FaUQT0JUPJ

— Autumn Berend | 秋 🍁 (@Autumn_Berend) September 24, 2018
"We cannot let this happen again. There's killers on our campus," the professor continued, referring to campus police. "Not just all of them, but those men." The crowd then booed at the three or so campus officers monitoring the protest.
An unidentified older male member of the local socialist club on campus stood up to introduce Suzanne Miller, who claims to have personally known Washington.
"He was in love with his family, he was a great guy, he had an amazing smile, he lit up the room. None of that matters, but kind of the point of that is that it's not the point," Miller said, highlighting that he could have been mentally ill or a member of the campus community.
Just a reminder that 'you're not safe on this campus' because of police
Protesters and officers do not seem to be talking to one another, judging by The Fix's observation. The protesters collectively set up the informal rule that they not talk to police, yet The Fix observed them making remarks as officers passed by, such as "your fly's down."
One of the student union organizers, Olivia Pace, told the Vanguard they'll keep camping in front of the campus safety office until campus police are disarmed, Dewey and McKenzie are fired, and the university installs a permanent memorial for Washington. (Washington's family removed a temporary memorial in August at the administration's request.)
Pace said protesters aren't shutting down the building, but just want to remind visitors to the building that "you're not safe on this campus" because campus police are armed.
One protester not connected to PSU, Natali-Nat'i Franklin (below), told The Fix he agreed that campus police should be disarmed on an individual basis in response to a questionable shooting, rather than disarmed as a force.
He cited the death of Eric Garner in a police chokehold as a reason to support disarming campus police, but also said officers should get more training if they are armed.
MORE: PSU gives cops guns to keep minorities down, activists claim
IMAGES: Autumn Berend
Like The College Fix on Facebook / Follow us on Twitter