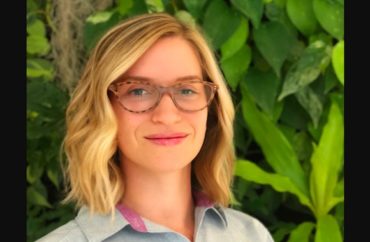 'Historically marginalized communities like Philadelphia experience even higher levels of trauma'
A professor at Thomas Jefferson University said incidences of Philadelphia parents and other adults coming to schools to settle their kids' arguments and threaten teachers is due in part to the effects of the COVID pandemic, inflation and gun violence.
Psychologist Kirby Wycoff (pictured) told The Philadelphia Inquirer that "historically marginalized communities like Philadelphia experience even higher levels of trauma than other communities," and as such "may devolve to behavior that's not helpful."
"These families are stressed out, overwhelmed, and not sure how to get their needs met," Wycoff said. "It's not OK, but I can understand where it's coming from."
Over the last two years, the 217 schools in the city district have seen a concerning number of threats and incidents involving adults. In the first half of this school year there have been "five assaults on employees by parents and 35 threats by parents to employees." At this same time last year there were two and 41, respectively.
Jerry Jordan, president of the Philadelphia Federation of Teachers, related how he recently approved the transfer of a teacher who had been assaulted by a student and, soon thereafter, members of the student's family.
"Adults just marched right into the school, ignored the rules of checking into the office, walked right into the classroom, and attacked the teacher [physically]," Jordan told the Inquirer.
MORE: Philly teachers fed up with knuckleheaded discipline policies
Former Principal Robin Cooper said school district officials share the blame: "Why would I act appropriately if there's nothing in it for me, if I know I can come up and act a fool and my kid still gets to terrorize a school? Our schools are not bad if the supports are there to hold people accountable for behavior."
Cooper's comments reflect the situation in many American schools: a paucity of teachers.
Despite media accounts about things like poor salaries, constant student misbehavior and lack of administrative support rank consistently highest among educator (and potential educator) concerns.
Wycoff's solutions — more school "resources" and "promoting trauma-informed practices across systems" — sound a lot like methods in line with "restorative justice."
According to her faculty page, Wycoff is co-author of articles such as "Motherhood Among Young Black Women: Wisdom and Survival amidst Trauma, Racism, and Structural Oppression," "'I ain't ready: It's time to get ready:' Exploring Dichotomous Feelings about Motherhood among Young Women of Color," and "Applying a MTSS Framework to Address Racism and Promote Mental Health for Racially and Ethnically Minoritized Youth."
MORE: Philly schools launch 'comprehensive initiative' to end racism
IMAGE: Linkedin screencap
Like The College Fix on Facebook / Follow us on Twitter