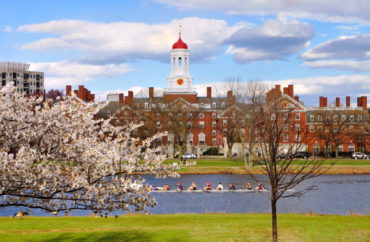 Argues for 'pedigree diversity'
A professor at the Metropolitan State University of Denver criticized universities for failing to achieve "pedigree diversity" in their pushes to pursue every other type of diversity.
His critiques of higher ed institutions come after an election that saw liberal Democrats accused of favoring elitist causes such as defunding the police over issues that appealed to a broader swath of the country. 
(Watch a telling criticism of "coastal urban elites" from presidential candidate Andrew Yang).
David Varel wrote in the American Association of University Professors' magazine, Academe, that universities are pursuing "not only race and gender but also sexual orientation, disability, military service, and many other categories."
He said:
The absence of pedigree diversity from the list is telling. It demonstrates the degree to which the myth of meritocracy and its ugly cousin elitism continue to pervade academia. Elitism holds that those who attended the most prestigious programs in the country are the best and the brightest, and that they therefore deserve to hold as many of the nation's professorships as they can fill. The logic is seductive. It envisions a level playing field where all other inequalities are set aside so that anyone from any group can compete and earn a place at the top through individual ability, intelligence, and work ethic. 
It is telling that this is a problem created by liberals, in liberal institutions, in a way that arguably mostly hurts people who are at a minimum, left-of-center politically. Varel should be complimented for seeking to clean up his own house before lecturing companies, churches or American society on how to pursue diversity.
Varel points out that attending prestigious schools is a cycle that helps people get the best jobs:
The students with greater access to top-ranked doctoral programs are the ones who have associated themselves with elite institutions and well-known professors as undergraduate or master's students, who have strategically plotted out their academic careers from an early age, and who understand how to make use of their accumulating social privilege (including better access to grants, fellowships, social networks, and status) to gain admission. 
Tellingly, Justice Amy Coney Barrett is the only member of the US Supreme Court who did not attend Yale or Harvard's law school. While Notre Dame is still a high-quality law school, no one can accuse Indiana of being a coastal, elite state.
Varel further explained:
Then, after elite-pedigreed students graduate, their wealthy institutions often lavish them with multiyear postdoctoral and visiting positions, allowing them the time and funding to comfortably build their curricula vitae and maintain prestigious affiliations while on the job market. Meanwhile, second- and third-tier institutions can't afford to do the same, and their graduates often have to support themselves—as I have—with time-consuming, low-status adjunct positions at various colleges, which pay poverty wages, have no benefits, leave little time to write and publish, and are often procured only through expensive cross-country moves. 
While Varel is accurate in taking aim at the benefits given to students from well-respected institutions, he may be missing the point on one issue, which is taking aim at adjunct positions. The real issue would seem to be a system that favors degrees, from any institution, over practical work experience.
Graduate students could reasonably obtain a master's degree in a field while working a full-time job in their field and leave two or three years later with both a degree and experience in their area of interest.
The current system does favor graduates of elite colleges, but it also favors students who achieve doctorate degrees without as much of a focus on practical work experience. 
Varel concluded:
The lack of pedigree diversity also hurts students. Most people have come to accept that the lack of a nonwhite faculty member makes it harder for nonwhite students to identify with their professors or to see themselves as welcome in that department or the larger profession. But they don't understand that pedigree functions similarly. What does a student at Idaho State think when his or her professors all went to Ivy League schools as undergraduates and Berkeley or Stanford for graduate school? Students who feel inferior to their professors or hopelessly behind  may give up the idea of entering the profession. 
Read the essay and read how students favor practical experience over elite degrees.
IMAGE: Jorge Salcedo/Shutterstock
Like The College Fix on Facebook / Follow us on Twitter