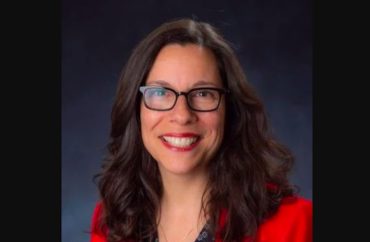 'There should not be any debate about whether gender identity is binary. (It's not.)'
A professor of educational foundations, policy and practice at the University of Colorado Boulder is weary of "extremist" conservatives arguing that gender is binary — because there's no "legitimate' debate surrounding the issue.
Michele Moses ties in her complaints to the alleged mischaracterizations of Michigan's House Bill 4474, which could result in someone being fined five figures and tossed in the hoosegow up to five years for causing someone in a protected class to feel "frightened."
Moses (pictured), who's also affiliate faculty in UC Boulder's ethnic studies and women's and gender studies departments, claims in Newsweek that right-wing media outlets "are manufacturing a crisis where there is none" regarding the bill.
These outlets, which Moses does not name (although one can see Fox News in a hyperlink), are rated "low credibility" according to the allegedly objective Media Bias/Fact Check site.
Conservative media are reporting about the bill "with the express intent to raise the ire of people who may not have a good, fact-based understanding of the nature of gender and gender identity," Moses says.
The College Fix recently covered the Michigan bill to note what law professors from both sides of the political aisle thought of it. Despite Moses' contention in her op-ed that progressives and moderates "simply cannot meet far-right extremists halfway," both of these professors agreed that the bill as-is is problematic.
MORE: Canceled researchers team up to study gender dysphoria
Western Michigan University's William Wagner had said "someone could listen to a speaker such as a religious preacher or read a conservative writer and claim they're being intimidated because their 'perceived gender identity' is under attack."
On the other hand, Georgia State's Eric Segall likes the bill — but said the U.S. Supreme Court likely would overturn it "both because it protects LGBTQ speech, which th[e] court no longer wants to do at all, and because of [its] definition of free speech which is way overbroad."
Unfortunately, Moses' view of "facts" and "truth" appear to be only what her political beliefs deem acceptable:
As a philosopher who specializes in ethics and equity, I find the legislators' instinct here to be morally right and good. They should not be getting grief for trying to keep vulnerable people safe. The problem with the Michigan bill is not its content, but rather the way it is being distorted and used by extremist-right groups to fuel misunderstanding by falsely alleging that misgendering someone would be a felony. …
Connected to this is an overall assault on truth. There should not be any debate about whether gender identity is binary. (It's not.) There is no "other side" of an issue if topics have been settled, with a right answer emerging through scientific and ethical inquiry—which is the case with gender identity.

But who gets to decide what's true? Won't it just depend on your political views?

That's the thing about truth: It is not partisan. We can rely on the evidence generated from scientific and ethical inquiry to help us distinguish between what's reasonable and true from what's not.
Remember, this is the same political ideology whose "facts" and "truth" cannot define "woman," claimed the COVID-19 vaccine prevented infection and transmission, told us the Hunter Biden laptop was Russian disinformation, and predicted (several times) that humanity already would be dead due to climate armageddon.
And interestingly, Newsweek recently reported on how a substantial number of millennials believe misgendering someone should be a criminal offense: 44 percent of 25-34 year-olds and 38 percent of 35-44 year-olds — both a plurality.
According to her faculty page, Moses' current research deals with "the complexities of political strategies to dismantle affirmative action in higher education admissions, what it means to opt out of public education, and the controversies and disagreements over free speech and the diversity of viewpoints on college campuses."
She also is author of the 2002 book "Embracing Race: Why We Need Race-Conscious Education Policy."
MORE: Professor critical of gender ideology says retracted paper will be published elsewhere
IMAGE: U. Colorado Boulder
Like The College Fix on Facebook / Follow us on Twitter