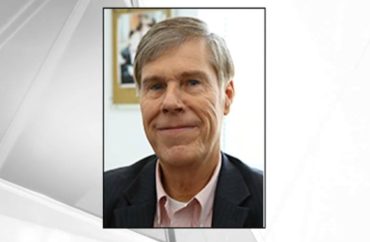 'Researchers must conform to accepted intellectual and disciplinary standards'
The American Association of University Professors is kind of like the ACLU: Both used to make full-throated defenses of speech regardless of viewpoint, but now they invent excuses to selectively justify censorship.
The latest occasion for AAUP's wishy-washiness is an uproar at California State University-East Bay over an emeritus professor of economics whose research includes the intersection of race and intelligence.
A Change.org petition calls on the public university to fire Gregory Christainsen (above), who continues to teach part-time, for his purported promotion of "race realism" that justifies "racial and gender stereotypes through the use of statistics," namely the results of IQ tests.
The petition, with more than 2,100 signatures as of Tuesday night, also calls on CSUEB to stop funding "controversial journal publications" such as Christainsen's and ignore tenure so it can fire faculty for "racist behavior."
Hank Reichman, who chairs AAUP's committee on academic freedom and tenure and is also retired from CSUEB, suggested Christainsen's colleagues pursue his dismissal for "research misconduct" as a way around academic freedom hurdles. (That was the same approach taken by Portland State University against a professor for his "grievance studies" hoax.)
In a blog post for its Academe magazine, Reichman cautioned that such a case "would be — and should be — difficult to prove, but it would not be entirely illegitimate on its face":
Nowhere in higher education is freedom of inquiry and research totally unrestrained.  Although space must be provided for iconoclastic or unpopular approaches, researchers must conform to accepted intellectual and disciplinary standards.
He asks critics for 'evidence pertaining to the truth or falsity of research findings'
Six students and faculty spoke out against Christainsen at a virtual Board of Trustees meeting Thursday where CSUEB's new president was also announced, the San Francisco Chronicle reports. (The article does not pretend to be objective, stating as fact that Christainsen teaches "racist and discredited theories on intelligence" without linking to his published work and associating him with "far-right and white nationalist movements.")
Biologist Pascale Guiton claimed her colleague has argued "people of sub-Saharan African descent … have significantly lower IQs than any other ethnicity." Christainsen should not "get to teach and evaluate Black students and Black faculty."
A "proud Mexican American" master's candidate in biology, Karen Parada, told the meeting that Christainsen "publishes racist ideology while teaching at one of the most diverse CSU campuses."
Guiton tweeted an email Christainsen sent her after she argued that his research was illegitimate and called him a threat to black students and faculty. It reads:
I do indeed teach course material that includes average IQ scores for various population groups. There are established methods for evaluating the reliability and validity of the scores and their relevance to economic growth among other concerns. It is not the case that people of sub-Saharan descent have the lowest average score of any population in the world, although the scores are below the world mean.

I would be quite willing to discuss the topic with you at greater length if you have some specific questions. I believe in the free exchange of ideas.
Christainsen told the newspaper his critics were not providing "evidence pertaining to the truth or falsity of research findings" but rather "recklessly" calling him a bigot: "I do not enjoy reporting that different population groups have different average test scores, but I am open to continued discussion of reasons for test score differences."
The Chronicle paraphrased him as saying that his work is "within the mainstream of contemporary intelligence research."
He said he didn't know that an interview with a freelance writer would be published by American Renaissance, which promotes "race realism" – a worldview that calls for "the study of all aspects of race, whether historical, cultural, or biological." The publication echoes the dominant university perspective that race is "an important aspect of individual and group identity."
The newspaper notes that the Southern Poverty Law Center designates American Renaissance a hate group. SPLC has also dubbed mainstream Christian organizations as "hate groups" and libeled a moderate Muslim activist.
"I certainly am not a 'white nationalist,' and in the interview I said that the evidence does not at all support 'white supremacism,'" he told the Chronicle. "I am a classical liberal in the spirit of John Locke."
University pushes back: must 'especially' protect 'repulsive' viewpoints
A university spokesperson told the newspaper that Christainsen's purported views "are antithetical to the core values of Cal State East Bay" but that the university is "bound to uphold First Amendment guarantees of free thought and speech."
That's "especially" the case when "we strongly disagree with and find repulsive the viewpoints offered, as long as the expression is lawful and comports with our campus time, place, and manner policies," the spokesperson said.
The outgoing president, Leroy Morishita, told the community Monday that the "cure for hateful and hurtful speech is to condemn it forcefully with our own protected speech," the Los Angeles Times reports. (Its article makes no pretense to objectivity, either, calling Christainsen's research "eugenics-linked" and citing the SPLC designation.)
Academic Senate Chair Michael Lee told the newspaper it wasn't clear what the body could do to Christainsen, other than consider a nonbinding resolution related to him:
"What is meant by academic freedom, what are the limits of academic freedom, and what are the responsibilities of a professor that is granted tenure?" Lee asked. "These are very big questions to which we actually don't have policies … It's going to make it very challenging for a senate or the university to determine what is the appropriate thing to do."
'Cannot present as truth propositions that are in fact professionally contestable'
Reichman's blog post about Christainsen emphasizes that it's not clear whether he's even teaching his theories to students. His classes this semester concern macroeconomics, urban economics and managerial economics.
But the AAUP official gives credence to none other than Ibram Kendi, who essentially promotes racism as the antidote to racism, by citing the scholar's view that intelligence tests are inherently untrustworthy. Reichman seems to assume that Christainsen is not making academically defensible arguments because they are unpopular with scholars he prefers.
Therefore, the most relevant question is whether he was making "extramural" comments or speaking "as a professor engaged in research and teaching," Reichman says, offering a roadmap for getting rid of Christainsen:
Academic freedom grants considerable scope to the consciences of individual scholars, but it does not protect an individual right of professors to do whatever they wish in their research and teaching or, for that matter, to say whatever they want in public remarks.
Reichman admits that Christainsen would be far from "the first scholar to drift over the years into fields and disciplines not directly connected to their area of initial research."
But he still implies the economist should be subject to a higher bar than faculty who use their classrooms to make political rants against President Trump and his supporters, with no relevance to classroom subject matter:
Under the principles of academic freedom instructors can assert viewpoints that remain controversial.  But they cannot present as truth propositions that are in fact professionally contestable without allowing students to challenge their validity or advance alternative understandings …
If Christainsen is indeed teaching his race-and-intelligence theories, "it would be no violation of academic freedom to consider whether such teaching is relevant to his assigned courses in economics or whether he is presenting these ideas as truth, when they are at minimum highly contested and rarely, if ever, accepted in the relevant disciplines," Reichman concludes.
IMAGE: NBC Bay Area screenshot
Like The College Fix on Facebook / Follow us on Twitter