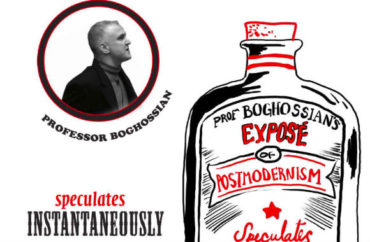 Did not receive permission for research protocol
As soon as their "grievance studies" publishing project was made public this fall, the authors made clear that they expected their careers to suffer because of it.
Peter Boghossian, a professor of philosophy at Portland State University, even predicted he would be fired for exposing the low publishing standards in trendy academic fields.
He's one step closer, having been found guilty of violating the public university's rules on "human subjects research" by conning prestigious academic journals into accepting ludicrous research papers. These included papers on rape culture in Portland dog parks and Mein Kampf written in feminist jargon.
Boghossian was mum when The College Fix asked him in early October if he was under investigation, but he just confirmed to Willamette Week that PSU has launched "disciplinary proceedings" against him.
Mark McLellan, vice president for research and graduate studies, told Boghossian in a Dec. 21 letter that PSU's Institutional Review Board determined the grievance-studies project met the definition of "human subjects research" in federal law and PSU policy.
"Your efforts to conduct human subjects research at PSU without a submitted nor approved protocol is a clear violation" of university policies, he wrote:
Your actions clearly illustrate a lack of understanding of the rules and regulations involved in human subjects research. Portland State University assures all sponsors including state and federal governments that we will ensure compliance in human subjects research. Therefore, I hereby direct that you cease any current or planned human subjects research that has no submitted IRB protocol. I further direct that no sponsored research proposal or program will be approved by Portland State University where you are a principal investigator, collaborator or contributor in any substantial manner until and unless you show satisfactory evidence of completing, understanding and agree to the principles of a human subjects research training to be identified and proctored by the Assistant Vice President for Research Administration, Dawn Boatman. Please contact her office for details regarding the training.
McLellan said he was redirecting the "ethical issues of concern" to PSU President Rahmat Shoureshi and Provost Sona Karentz Andrews.
The vice president told Willamette Week that PSU was acting to preserve its compliance with federal law on "research misconduct." Boghossian said he has been "given no indication" by the university that it intends to put its "institutional weight behind the pursuit of truth."
MORE: Anonymous professors attack Boghossian as threat to PSU
You should have actually inspected 10,000 dogs' genitals
Boghossian's co-authors claim that their project was an undercover "audit" intended to "gain evidence of a systemic problem with knowledge production."
But PSU treated it the same as when researchers "contrive to promote their own advancement directly by passing off and maintaining bogus data with no intention to reveal the truth," they wrote in Areo magazine.
The article by mathematician James Lindsay and Areo editor-in-chief Helen Pluckrose provides the timeline on PSU's investigation of Boghossian, which started 10 days after The Wall Street Journal broke the news of the project. (The media have widely called it a "hoax," but the authors have dismissed the term, preferring the academic jargon "ethnographic inquiry.")
In addition to the IRB review, McLellan told Boghossian Oct. 12 he was forming a "Committee of Inquiry" to study whether "the fabrication of data" in some of the submitted papers "constituted a breach of research ethics."
This committee unanimously decided shortly after Thanksgiving that the "dog park" article was an "unambiguous example of research data fabrication," and that the other papers they got published "warrant further investigation" for the same fabrication.
MORE: Hoax trio gets woke version of 'Mein Kampf' published in feminist journal
The committee essentially blamed Boghossian and his co-authors for not inspecting "10,000 dogs' genitals before interrogating their owners about their sexual orientations," Lindsay and Pluckrose write:
We wanted to see if reviewers or editors would ask to see this data or question the conclusions we drew from it. They did not and, in fact, the paper was recognized for excellence within feminist geography.
The IRB investigation was an "intentional distortion" of research safeguards intended to secure the "informed consent" of human research subjects, they write: "[I]t is impossible to conduct a valid quality assurance investigation, which this audit was, after informing those being audited that they're under examination."
Lindsay and Pluckrose argue that the IRB ignored PSU's own policy by claiming that the journal reviewers who considered the trio's submitted papers – all of whom remain anonymous – were human research subjects.
Six categories of research are exempt from the rules at PSU. One of them is for research involving "the use of educational tests (cognitive, diagnostic, aptitude, achievement), survey procedures, interview procedures or observation of public behavior," as long as it doesn't tend to identify the human subjects or damage their reputation.
The claims against Boghossian are a "ludicrous embarrassment" to PSU, Lindsay and Pluckrose write, because they set a "dangerous precedent" of weaponizing research and ethical guidelines, in an "apparent attempt to punish a faculty member for having engaged in a praiseworthy effort intended to improve scholarship on important subjects."
Read the articles in Willamette Week and Areo.
MORE: From sexist potatoes to rape culture at dog parks
IMAGE: PSU Vanguard screenshot
Like The College Fix on Facebook / Follow us on Twitter