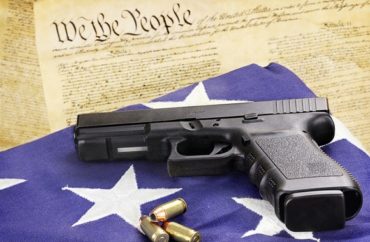 'How is the NRA silent on this, particularly when it was calling federal law enforcement jackbooted government thugs at Ruby Ridge and at Waco?' she asks
The chair of the African American studies at Emory University has been making the rounds this summer with her new book, claiming that the purpose of the Second Amendment, which guaranteed US citizens "the right to keep and bear arms," was about keeping slaves imported from Africa down.
In an interview in Slate, published August 3, Professor Carol Anderson said that her book "The Second," was inspired by the police shooting of black concealed carry permit holder Philando Castile in Minnesota in 2016. As she tells it:
In Minnesota, you have a Black man who was pulled over by the police. The officer asked to see his ID. Castile, following [National Rifle Association] guidelines, alerts the officer that he has a license to carry a weapon with him but he says he's reaching for his ID. The police officer begins shooting and kills Philando Castile. We see the film of it. It is horrific.

We have a Black man killed simply for having a gun—not for brandishing it, not for threatening anyone, simply for having a license to carry a gun. The National Rifle Association, that protector of the Second Amendment, goes virtually silent. And I thought, how is the NRA silent on this, particularly when it was calling federal law enforcement jackbooted government thugs at Ruby Ridge and at Waco? On this, they're like virtually silent. Journalists began asking, "Well, don't African Americans have Second Amendment rights?" And I thought to myself, that's a great question, and that's what led me on to this hunt.
Neither Anderson nor interviewer Dalia Lithwick mention that this silence was controversial among NRA members and in fact led many to cancel their memberships. The Berkshire Eagle reported:
The delay in addressing Castile's death, as well as the promptness with which the NRA spoke out after [another] shooting, has prompted complaints of a double standard in the way the organization defends gun owners.

"Your lack of message concerning the Castile case disappoints me and makes me question my membership," wrote one man, Marco Gallologic, on the NRA's Facebook page. ". . .What do I pay fees for if you do not represent gun owners and our rights?"

"Your silence is causing NRA members such as myself to question/wonder what exactly you do and don't stand for," another man, Bruce Johnston, wrote.

That sentiment was reflected across social media this week, with members and non-members alike demanding that the NRA voice its support for Castile. …

"Philando Castile had a valid concealed weapons permit but was shot and killed," wrote Dennis Gesker on Facebook. "As an NRA member I urge you to take a strong position in favor of this man."
Nor do Anderson or Lithwick mention that there were other gun groups as well that were not silent.
"Other firearms groups have reacted with alarm to the shooting. On Thursday, the Second Amendment Foundation, a gun-rights group based in Bellevue, Washington, said 'exercising our right to bear arms should not translate to a death sentence over something so trivial as a traffic stop for a broken tail light,'" the Eagle reported.
MORE: Louisiana has Ka'Mauri Harrison's back in bogus Zoom BB gun suspension case
IMAGE: Stephanie Frey/Shutterstock
Like The College Fix on Facebook / Follow us on Twitter