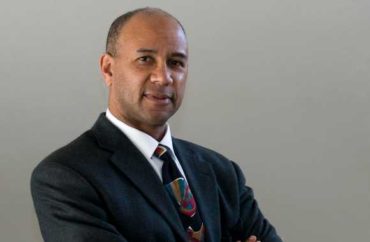 'I saw an opportunity for Linfield to engage an experienced and highly qualified administrator'
Linfield University hired a new provost who faces accusations of making anti-white statements but who is fighting those claims in court. 
Provost Mark McPhail comes from Indiana University-Northwest, where he was fired amid conflicts with campus leadership over hiring practices and what he perceived as a lack of efforts to increase diversity.
The university contends McPhail said "words to the effect that 'the only way to end racism is to kill all white people,'" and he also had a history of giving lower grades to students of color.
But McPhail said in a previous interview with The College Fix that administrators are twisting and exaggerating something he said off-the-cuff in a private conversation as an excuse to fire him.
He also said he gave students, including students of color, the grades they earned and deserved, and was effectively criticized for not engaging in grade inflation.
He has a pending lawsuit against IUN.
"[D]efendants relied on stereotypes of black men as irrationally angry and violent to exile [him] from the University permanently," according to McPhail's lawsuit against the university.
The College Fix contacted Linfield University by email to ask what specifically made the school interested in hiring McPhail (pictured), and whether or not it is concerned with his alleged remarks and failing of a disproportionate number of students of color.
The school's spokesman Scott Nelson declined to provide comments. However, the university's president said he offered McPhail a job after reading about his battles with Indiana University-Northwest.
Linfield President Miles Davis reached out to McPhail to offer him a job after reading a story about him in The Chronicle of Higher Education, the publication reported.
"I saw an opportunity for Linfield to engage an experienced and highly qualified administrator," Davis told The Chronicle. "His scholarly background and previous experiences in higher education make him an ideal candidate for Linfield as we move forward."
The former IUN professor's lawsuit includes allegations that his employer hired a new dean "without any transparency" and McPhail's criticism of the process led to him not being assigned courses.
MORE: California State University professors defend 'open debate and inquiry'
McPhail said he currently is a "temporary" hire it Linfield but he intends to apply for the permanent position.
The Fix asked for comment on the difference between this hiring process and the one he criticized at IUN.
"The position at Linfield was posted in accordance with the university's policies. Two candidates applied, and I was chosen to serve in the interim role, which is a temporary position," he wrote in an email on September 19. "This is a standard practice at institutions when a temporary appointment needs to be made."
His attorney, Rima Kapitan, denied the racial allegations against her client in an earlier communication via email with The College Fix.
"Dr. McPhail never said that and would consider such a remark to be offensive and wrong," she said. "The remark was apparently attributed to him by an administrator who did not speak directly to him. This misunderstanding demonstrates why terminations should not be based on the academic equivalent of a game of telephone."
"Rather, people accused of some offense should be permitted to defend themselves before any termination takes place," she said.
Kapitan said her client did not mistreat students of color and that "being an advocate for diversity does not mean giving black students passing grades when they did not complete the work for the course."
"Dr. McPhail went out of his way to support students who were struggling academically, but he also applied the same grading criteria to all students regardless of race," she said.
She told The Fix that McPhail's lawsuit against IU-Northwest is in discovery phase.
The Oregon-based Linfield, meanwhile, has faced criticism for its approach to academic freedom and the handling of allegations of misconduct.
The American Association of University Professors criticized Linfield officials for its investigations into tenured English Professor Daniel Pollack-Pelzner who the university fired after sexual misconduct allegations.
The AAUP, after an investigation, concluded that Linfield "dismissed Pollack-Pelzner without demonstrating adequate cause for its action before an elected faculty hearing body."
"The investigating committee also found that the administration violated Pollack-Pelzner's academic freedom to participate in institutional governance without retaliation. General conditions for academic freedom and shared governance at Linfield University, the report states, are 'deplorable,'" according to the association.
MORE: Methodist university sued for policy against LGBT employees
IMAGE: Greg Theune/Courtesy of Mark McPhail
Like The College Fix on Facebook / Follow us on Twitter