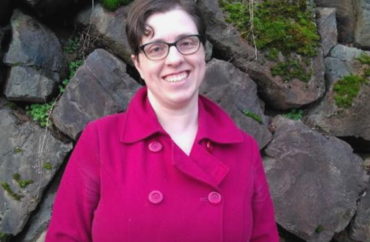 The College Fix reported recently on a tenured English professor at Lake Washington Institute of Technology who spent nine months under investigation for pushing back against her school's mandatory, racially segregated diversity training.
Professor Elisa Parrett was put on paid administrative leave after she read a statement that criticized the anti-racism narrative as a false dichotomy that divides people and ignores more pressing problems facing all Americans.
The administrative probe ended in April 2021 with a discipline letter against Parrett, who returned to the classroom that same month.
The College Fix interviewed Parrett last week to see how things have gone since her return to the classroom, discuss her involvement in a YouTube news comedy program, and weigh the fate of higher education in the wake of critical race theory.
This interview has been edited for content, clarity and length.
CF: You were back in the classroom in the spring and rounded out the quarter quietly with no trouble?
EP: The last day of the quarter is June 15 and grades are due on the twentieth. So far things have been pretty quiet. I do teach a class this summer.
CF: In retrospect, do you have any regrets? Has time away from that whole situation, in which you spoke up at the "Courageous Conversations," were subsequently placed on paid leave, investigated for nine months, essentially cleared and told not to speak up anymore. Now we are a few months removed from that ordeal. How are you feeling about it looking back, looking forward?
EP: Now that I think about it I am not sure I do have any regrets. I said something because I felt something needed to be said.
CF: The title is "Courageous Conversations" so you would think they would honor their own title and let you say something courageous.
EP: I actually learned later "Courageous Conversations" is trademarked and is a brand of a company that supports these kinds of lectures on anti-racist topics. I thought it was a description, and it wasn't.
CF: So, it's official, you have no regrets?
EP: It's official, I have no regrets. I have complicated emotions about the whole situation. I go back and forth between feeling frustrated, angry, sad, disappointed, sometimes anxious. So sometimes I think I have regrets, but then I think about it more and I realize that I don't.
CF: You said once that "If I don't speak up, who will?"
EP: I said that people who are experiencing things like I am experiencing need to tell their stories.
CF: You have gotten a lot of positive feedback?
EP: Yes. When I spoke out I got a number of emails from people saying "I agree with you, I am so glad you spoke up." I had a lot of people offer support.
CF: You have this reprimand, a slap on the wrist, where you are not supposed to disrupt anti-racism efforts at your school anymore.
EP: They have made it clear to me in grievance meetings over the letter of reprimand that the letter is not, in fact, a slap on the wrist. It is the first step of "progressive discipline." The letter clearly states that if I "interrupt or undermine" their Mission Fulfillment Plan I will receive the second level of progressive discipline, suspension. If I do it again after that, I will move to the third level of progressive discipline, dismissal. The letter of reprimand is not a slap on the wrist. It is a way for them to wait for me to step out of line so that they can fire me. From their perspective, if I remain silent, they win. If I don't remain silent, they get to suspend and then dismiss me. Either way, they win. I am not a naturally competitive person and don't like viewing it this way, but it is clear to me from what they have said in various meetings that they, in particular President [Amy] Morrison, are viewing it this way.
CF: How do you feel about moving forward in this?
EP: It depends a lot on what they do. I spoke up last June because they had a racially segregated meeting. To me, that crossed a line. I know that there are many people at my school who don't understand where that line is for me and I've seen that they are handling me with kid gloves now because they think I might explode at any moment because they don't understand that there are certain things that I may disagree with but I don't feel the need to say anything. But there are other things to me that have crossed a line. When you are racially segregating a meeting, to me, that is a really big step into racism. I don't understand how they can think that's okay.
CF: You were at the January 6 rally. Is there anything you want to say about that? Was that misconstrued by your peers?
EP: I neither witnessed nor participated in anything illegal. However, I was near the capitol when it was breached, I was on the opposite side of the capitol, so I didn't see any of that. The capitol has two main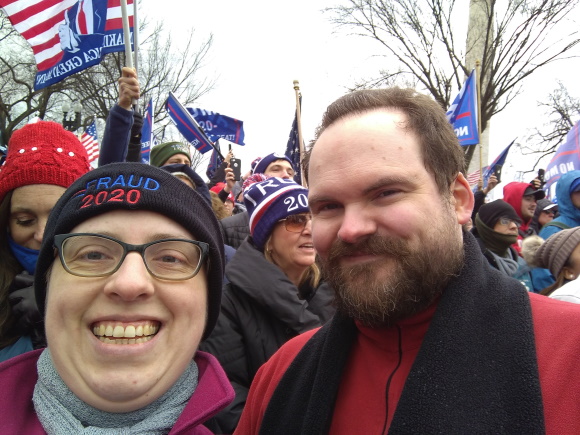 sides and one side had the breach going on, and I was on the other side not knowing that it was happening until later. But even with the breach that occurred there have been so many misconstruals of the things that happened there. My husband and I wrote an article on our experiences.
CF: It seems that those who were at the rally have been slandered as radical right-wing anarchists, even though perhaps 5 percent of the people who were there went into the capitol and the rest was a mostly peaceful protest. But from leftist academia's perspective, it was on the same level as 9/11. What kind of ramifications have you felt having gone there and then returned to academia and them perceiving you in a certain way?
EP: I have seen enough of the news coverage of it to know it's been blown wildly out of proportion. For those who say "everyone there was a white supremacist" — that is shocking to me. I did not experience that. I talked to people there, none of them were white supremacists. Definitely they weren't anarchists. They felt something illegal had occurred and they wanted it to be investigated. But yes, going back into academia, I am encountering people who have heard one version of events and they are certain that's the truth and so they therefore see me through that lens.
CF: I wonder, if you did not have tenure, whether you would have been terminated?
EP: They were looking for reasons to fire me. They are very disappointed that they were not able to find enough grounds to fire me because of my tenure. They think I lied to get tenure and then showed my true colors and I have clearly showed them that's not true.
CF: Have you ever thought about leaving the profession?
EP: I consider it. I consider at least not teaching there anymore. The school is going in a direction I strongly disagree with. But also, if I'm honest, don't want to give them the satisfaction.
CF: You have a side-gig. You are writing for a news-comedy channel. Do you want to tell our readers about that?
EP: Sure. During the investigation I was personally very certain that I was going to be fired and I watched this YouTube show called "America Uncovered" from time to time. I liked them a lot, and they put out a video saying they were looking for writers. I applied thinking nothing would come of it but it would be so much fun, but they got back to me and wanted me to give them some pitches. Now I write an episode for them almost every week. They are a great group of people and it's a great show.
CF: It's a center-right news comedy show. So they tell the news, but they give it punchlines.
EP: It's news first, and they put a lot of emphasis on trying to make sure the research is thorough and the facts are accurate, and then they sprinkle humor in on top of it. It's the counterpart to John Oliver or The Daily Show with Trevor Noah. Those are left. We take on a similar format but are striving to be unbiased. It leans a little bit right but we try hard to present both sides, which I appreciate.
CF: You strike me as sort of this soft-spoken intellectual warrior. Would you say that's an accurate description?
EP: I have never heard myself described that way before. Yeah, I think it's probably accurate. One of the things Jesse [Singal] said about me in the Reason article, or maybe he said it somewhere else, is I am a little bit awkward. And I am. I am a little bit awkward, I know I am a little bit awkward. I am definitely an intellectual, I've been in academia for most of my life. So yeah, I'm an academic, and a nerd. But I have a strong undercurrent of feeling that surges up when I see what I perceive to be injustice.
CF: How can students discern critical race theory and counter it with facts, data and statistics?
EP: I am very saddened at having watched the progression of critical race theory, which I didn't have a name for until recently in higher education. It really began to take hold when I was in college but I didn't know what it was then. In hindsight, I can see the path it has taken. I am actually thinking of writing a book about my experiences starting as a student then as a teacher on how this became more and more prevalent just throughout my lifetime. And I worry, because some of the teachers I work with who are very, very passionate — devoted to critical race theory — facts do not sway them. And then they start calling people names, like "racists." I don't know how to move forward in higher education, because the administrators of the school think I am racist, and I think what the school is doing is racist. I think what we are going to end up with are schools that are pro-CRT, and schools that are anti-CRT, and we are going to have states supporting it, and states banning it, and we are going to have to find out how to make that work as a union, as a country.
MORE: Professor investigated for nine months after disagreeing with anti-racism diversity training
IMAGES: courtesy photos
Like The College Fix on Facebook / Follow us on Twitter