'What an insult to our kids, our educators, to suggest for a moment that a 20 yr old, raised in rubble and taught to hate you, gays, Christians, Jews, women's rights, and western liberalism would be as good an American as your kid'
Dan Demetriou, an associate professor of philosophy at the University of Minnesota Morris, has taken a defiant stance against the overwhelming consensus of his leftist peers that allowing a large and unfettered influx of immigrants and refugees into America is good for the country.
"I am persuaded that the leftist immigration and refugee policy agenda, especially given the influence of divisive social justice theory and looming automation, is an existential threat to the US and other advanced Western nations," Demetriou recently stated publicly.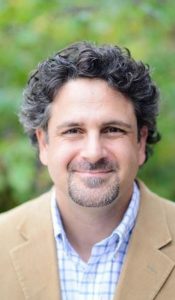 "We need to talk honestly about social cohesion, assimilation, and the obligations we have to our citizens and our children who appear, as I see it, ignored in expansive homilies about immigration and refugees," he continued.
Demetriou did not self-appoint himself the role of taking a public and contrary stand against the majority of those in his profession — he was thrust into the spotlight recently after comments he made on his private Facebook account when the Trump travel ban dominated headlines were leaked to his campus community.
Those Facebook comments stated in part: "100% of illegal immigrants lower confidence in the rule of law and add people and workers and students we don't need. They on average have IQs lower than natives and low skills. They are harmful to an economy about to automate, especially when it is a welfare state. …"
"And refugees are way worse, as most adhere to a religious-political cult with repulsive values at war with the west from its inception. No country who has taken the current crop of refugees has made it work. No school with many refugees or illegals is a good school. None of their neighborhoods are safe. Not everyone has an extra $100k to avoid them," he continued.
"What an insult to our kids, our educators, to suggest for a moment that a 20 yr old, raised in rubble and taught to hate you, gays, Christians, Jews, women's rights, and western liberalism would be as good an American as your kid."
Uproar ensues
After those comments spread in mid-February, his university community was quick to condemn them.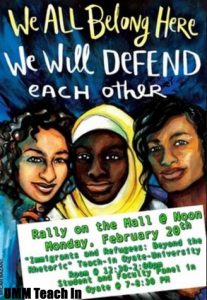 For one, the campus held a teach-in Feb. 20 to counter Demetriou's statements. An advertisement for the event was headlined "We all belong here, we will defend each other," reports the Star Tribune.
What's more, university Chancellor Michelle Behr sent out a campuswide email stating that while "democracy should and does rightfully tolerate expression of differences of opinion, some members of our community have found these communications both personally and professionally distressing" and went on to reiterate the university's commitment to "multicultural and international inclusiveness," Inside Higher Ed reports.
Some of Demetriou's peers at UM-Morris also rebuked him, sending him strongly worded emails or working in rebuttals in their classroom lectures, City Pages reports.
Demetriou is on sabbatical in Sweden. After he found out about the backlash against him, and received feedback from colleagues, he responded on Facebook in part by saying "most of my colleagues advocate for policies that, as far as I can tell, are failing spectacularly overseas and in many communities at home," City Pages reports.
He continued: "I feel that illegal immigration, mass migration (legal and illegal), and anything more than a trickle of refugees is bad for my country. My reasons, roughly, are: 1) that illegal immigration undermines rule of law for a perfectly reasonable type of law, 2) that mass migration burdens our institutions, waters down our (superior) cultural values, reduces social cohesion, and betrays our children of advantages they deserve from us, and 3) that refugees are for the most part a net negative for us on various dimensions."
Demetriou went on to defend freedom of speech and intellectual freedom, noting "it would be much easier for me personally just to censor myself. I am sacrificing a great deal of social capital, and probably putting my career or at least career ambitions in jeopardy because I feel I must say something, if not publicly, at least inside my social circle. … Mill taught that unchallenged ideas tend to become 'dead dogmas.' By providing some resistance — by standing up and presenting real opposition as opposed to a strawman — I am doing UMM a service. Universities are often accused of being ideological monocultures. The intellectual diversity I bring to UMM will help it avoid that criticism."
Students want 'authenticity in political discussion'
In an emailed statement last week to The College Fix, Demetriou said he plans to return to campus for fall semester classes. He said that despite the uproar against him, he will stand firm.
"Although I am not an expert on immigration or the current refugee crisis, my considered views are well within the mainstream of expert opinion and, I trust, will grow only more common in the coming decades," he told The Fix.
He said he understands that stance will more-or-less socially ostracize him from his peers.
"But I believe if the campuses are going to regain the trust of the public, professors need to show that leftist ideology—even when true—really can be resisted without sanction, and that our colleges haven't failed at their mission of being centers of debate as opposed to indoctrination," he added. "I am also confident that students are increasingly looking for authenticity in political discussion and are losing patience with social justice censoriousness and the culture of fear it engendered."
Demetriou is also not alone.
"I am encouraged by the many private notes of support I've received from academics and citizens from around the country," he told The Fix. "There are also a significant percentage of graduate students coming up who are critical of social justice zealotry, and I predict we will soon be seeing many more dissenting voices from academia along the lines of Gad Saad, Jordan Peterson, Michael Rectenwald, Christina Hoff Sommers, Peter Boghossian, and others."
MORE: Public university: Don't use 'illegal alien' or ask about immigration status
MORE: UC President Napolitano to campus cops: Don't enforce federal immigration law
Like The College Fix on Facebook / Follow us on Twitter