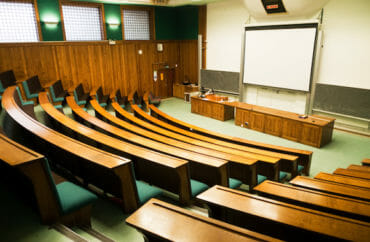 'University courses should be decided on by the teachers responsible, no one else,' scholar says
A Swedish professor is making international headlines after refusing to obey an instructional gender quota at his university that called on him to teach a feminist author as part of his course curriculum to ensure gender balance.
While the scholar has not faced professional sanctions for that conscientious objection, done in the name of academic freedom, uproar over his decision has led him to stop teaching the course.
The controversy began after Erik Ringmar, a senior political science lecturer at Lund University in Lund, Sweden, recently decided to omit author Judith Butler from the syllabus of a course he was teaching, "Modern Society and Its Critics."
Butler is a noted American feminist academic who has done much to advance the concepts of gender fluidity and queer theory. Ringmar dropped a section on postmodernism from his course, which included a reading by Butler.
This change had to be approved by his social science department, but they denied it based on a rule it has which stipulates that at least 40 percent of the reading list of any given course must be composed by women. The committee told Ringmar keep Butler on his syllabus.
When he taught the course over the fall, he left Butler out, upsetting students and becoming ​the subject of widespread media attention in Sweden, Inside Higher Ed reports.
Ringmar, in an interview with The College Fix, stands behind his decision.
"It's an unbelievably stupid, brain-dead, anti-intellectual rule," Ringmar told The Fix via email about requiring 40 percent of his reading assignments to be penned by females.
"Thinking and learning cannot be restricted according to quotas. It's like saying that bakers can't use certain flour or painters can't use a certain color paint," he said.
"These decisions are not for outsiders to make," he added. "University courses should be decided on by the teachers responsible, no one else."
Part of the problem, Ringmar told The Fix, is that Swedish educational culture tends to be extremely deferential to "the requirements of the state."
"No one in Sweden seems to understand the American tradition of academic freedom," said Ringmar, who holds a PhD from Yale University. "University teachers and students all seem prepared to have the government determine what should be taught. I'm appalled."
While he has yet to face professional sanctions for refusing to follow departmental guidelines, he nevertheless had to contend with "major social sanctions," he told Inside Higher Ed.
"You can't be seen [to] question the importance of gender issues and expect to have a career in this country. There is no way to explain to anyone here that academic freedom was my only concern," the professor said.
In the end, Ringmar decided not to teach the course again, writing on his blog: "I don't want to be bullied by students and I don't want weird rumors to spread about me."
"An intellectual activity is not a democratic process," Ringmar told The Fix. "We can't end up in a situation where everyone has a vote and everyone votes for their favorites. The teachers decide, no one else."
In November, in an interview with the Swedish magazine Kvartal, Judith Butler was asked what she thought about having her work imposed on a lecturer in the name of gender equality.
"I am not in favor of my work being imposed by quotas," Butler said. "Suggestions can be made about how to expand perspectives on gender, or which texts might be useful, but the final judgment has to be made by the faculty member."
Ringmar stressed that faculty must be given the broadest latitude to structure their courses, and that mandated course materials do not necessarily serve the purpose they're intended to serve.
"Assigning, say, Karl Marx doesn't mean that students are taught Marxism," he told The Fix. "It means that we use Marx as a starting-point for thinking about society. The class might end up with strongly anti-Marxist conclusions."
In the same way, "I can assign reactionary patriarchs, and end up with a super pro-feminist course. This is how the intellectual process works."
"That Swedish universities don't understand this," he added, "is scary."
MORE: College imposes gender quotas on conference panels to prevent 'sausage fests'
MORE: Canadian university mandates 45 percent quota for 'self-identified diversity categories'
IMAGE: Paul.J.West / Shutterstock.com
Like The College Fix on Facebook / Follow us on Twitter