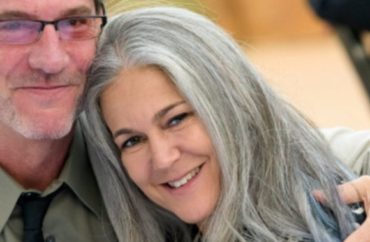 Remark was 'metaphorical' and 'sarcastic,' and no one acted like it was a threat
A law professor at the University of La Verne is accusing the administration of "racializing" a non-racial comment as an excuse to try to fire her.
The university put Diane Klein on paid administrative leave a month after she allegedly said she was "willing" to "assassinate" a black colleague, and then stripped her pay the following month.
Klein (above right), who is white, claims the "metaphorical remark" last November was meant to criticize the leadership of Assistant Dean Jendayi Saada, who runs the law school's Center for Academic and Bar Readiness.
She told The College Fix in an email that her spat with the law school leadership goes back years, and that it's seeking to revoke her tenure to silence her criticisms.
The professor has the support of the Foundation for Individual Rights in Education, which warned the university earlier this month that it didn't have grounds to revoke Klein's tenure over a "sarcastic" comment.
Saada herself used the A-word colloquially when she reported Klein to human resources two years ago, accusing the professor of "attempting to assassinate [Saada's] character," FIRE's Katlyn Patton wrote to Provost Jonathan Reed. Noting the previous class of graduates "had low California bar passage rates," Klein asked Saada in January 2018 for her center's data on law students – a request that Saada apparently construed as harassment.
MORE: La Verne student charged with faking hate crime against herself
It's not credible that Saada took Klein's "assassinate" comment from November as a true threat, either, considering the assistant dean took three weeks to file a civil restraining order against Klein, according to Patton, a program officer in FIRE's Individual Rights Defense Program and Public Records.
"For ULV to allow Professor Klein to be stripped of tenure via an investigation predicated on protected expression and rife with procedural errors would exhibit a concerning disregard for both freedom of expression and academic freedom," Patton wrote in an email to The Fix.
The administration denies that it violated its own rules in the Klein proceeding. "The university followed and continues to follow the Faculty Handbook, all appropriate university policies/procedures, and laws in this matter," Rod Leveque, executive director of the Office of Strategic Communications, told The Fix in an email.
Klein has been an advocate for "shared governance, academic freedom, and tenure/security of employment at ULV" since 2017, she told The Fix.
She restarted the American Association of University Professors chapter on campus, making her "deeply involved" in a faculty vote of no-confidence against President Devorah Lieberman (below) on Dec. 16.
It was only four days later that Klein was placed on administrative leave, she said, leading her to believe the no-confidence vote was the real motivation for her punishment.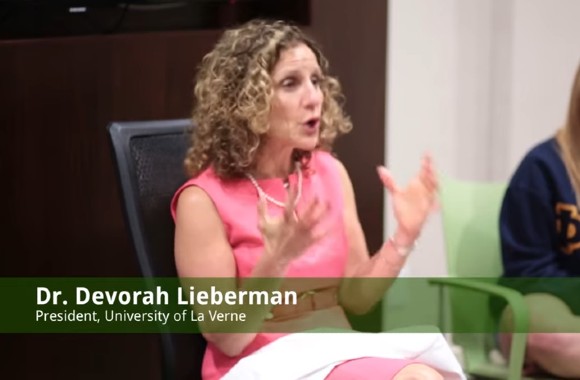 'ANY attempt to defend me leads to faculty being characterized as racist'
Klein's "assassinate" comment came at the end of a Faculty Senate committee meeting Nov. 26. Members were deciding future steps in the event of the law school's closure.
They discussed whether to criticize Saada's center for its perceived role in the academic weakness of law school graduates. (Inside Higher Ed reported in February that the law school is transitioning to the less-stringent California Bar Association accreditation.)
Klein wrote the section of the committee report dealing with Saada's center, but the committee decided not to include it, according to FIRE's letter. She warned another professor that the committee has to decide "whether we are willing to assassinate Jendayi—and I, for one, am willing to do it."
(FIRE construes this as Klein's best guess of her actual comment. A secondhand account of her comment, cited by the university, quotes Klein: "If we are to survive, we have to be willing to assassinate Jendayi," and Klein is willing to do it.)
Klein received notice of her paid administrative leave Dec. 20, the same day she met with the university's hired investigator, to whom she explained that her "assassinate" comment was intended to be "institutional criticism."
MORE: Law professors question punishment of Christian for 'vile and stupid' views
The attempts to racialize her criticism of Saada have only worsened an already "extremely fraught racial climate" at the university, Klein told The Fix. She cited a tenure dispute with a black faculty member in the College of Education a couple years ago.
The current situation has "created an environment at the school where ANY attempt to defend me – even to defend my due process rights in termination – leads to faculty being characterized as racist," said Klein.
"I can't help but think this was intended, or at least foreseen," by Saada (below) and "perhaps by some high-level administrators" who encouraged Saada to testify at a January Faculty Senate meeting. As she was barred from campus, Klein couldn't attend to defend herself.
Even the student newspaper Campus Times has barely covered her situation or the no-confidence vote back in December, which "really lies behind the whole thing," Klein said. (Campus Times is an official university publication, not an independent newspaper.)
'Disparaging' emails cited in restraining order
Kevin Marshall, the law school's interim dean, updated Klein Jan. 8 that her leave had become unpaid and that she would be stripped of tenure and fired. Her total communication ban was eased "for the limited purpose of rebutting evidence or arguments" against Klein or presenting her own evidence and arguments.
Two days later Saada finally filed a civil restraining order against Klein in San Bernardino Superior Court – 45 days after Klein's comment, and 24 days after Saada learned about Klein's comment. The assistant dean cited "disparaging" emails from Klein to the Faculty Senate and said she was "in fear" for her life, yet she didn't appear in court for a January hearing on her petition.
Saada's behavior is inconsistent with someone who is in fear of her life, FIRE's Patton wrote in a blog post on Klein's ordeal. She mocked Doajo Hicks, the university's general counsel, for reportedly claiming at a Feb. 10 Faculty Senate meeting that Klein's comment was "criminal."
Even under a "subjective evaluation," Klein's "clear intent was to express institutional criticism of the internal flaws at the ULV College of Law and the CABR program, and her opinion that to do so would also require criticism of Saada herself," Patton wrote to Provost Reed.
"[A]ny reasonable understanding of freedom of speech," she continued, "plainly protects such expression, even when it obliquely, hyperbolically, rhetorically, or sarcastically implies physical harm to another." Furthermore, "it's clear that nobody within earshot" of Klein's "assassinate" remark "treated it as a threat worth reporting to ULV security or law enforcement authorities," Patton wrote.
MORE: Department attacks weather prof for opposing carbon tax proposal
University refuses to share evidence of 'similar inappropriate behavior'
The College of Law Faculty and Personnel Committee approved Klein's "involuntary termination" after a March 20 meeting. The recommendation was signed by Chair Charles Doskow, the professor to whom she had made the "assassinate" comment, and Klein received notice April 3.
According to Patton's blog post, the administration presented no evidence at the meeting other than disorganized binders containing various documents from Klein's time at ULV, student reviews and "references to human resources 'investigations'" but not documentation of those investigations.
The university is risking the terms of its accreditation by undermining its "commitment to academic freedom and due process," FIRE said. The Faculty Handbook promises to uphold academic freedom and freedom of expression.
University spokesperson Leveque told The Fix the university has more evidence of Klein's wrongdoing.
In addition to the recent finding that Klein made "serious threats to harm another employee," Klein was "previously disciplined for similar inappropriate behavior" that amounted to her being "placed on indefinite administrative leave without pay with the intent to terminate her tenure," he said. Asked to explain that behavior, Leveque responded: "I cannot provide additional details."
Patton told The Fix that FIRE has not received a university response to its letter, which it requested by April 23. The civil liberties organization "will evaluate our options when and if ULV responds to our letter."
MORE: University tries to fire professor because he appealed suspension
IMAGES: Diane Klein/ResearchGate, University of La Verne/YouTube, iPetitions
Like The College Fix on Facebook / Follow us on Twitter