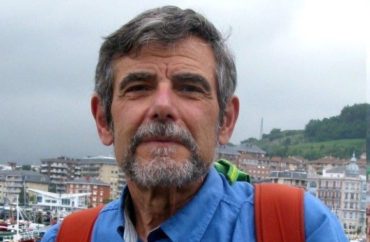 Agreed to phrased retirement, won't sue university
Last summer, Syracuse University put a professor on indefinite administrative leave in seeming violation of its contract with him. (Ignoring its own policies is not new for Syracuse.)
Jon Zubieta's crime was putting the phrase "Wuhan Flu or Chinese Communist Party Virus" on a syllabus. It was the chemistry professor's riff on the required COVID-19 section of the syllabus, which administrators wrote. Syracuse suspended him the same day the syllabus went viral.
While some students accused Zubieta (above) of racism for noting where the novel coronavirus originated, and which political institution was responsible for hiding the outbreak and lying about its nature, an Asian international student told us it was "imperative that we name where this virus came from and who initially spread it."
According to the Foundation for Individual Rights in Education, the administration ignored its legal warning about violating Zubieta's rights under Syracuse policy.
Late last year, however, the university opened the door a crack to Zubieta returning – if he completed professional development and retired on a set schedule.
Documents posted by FIRE suggest Syracuse was wary of inviting litigation. An undated email from Chief Equal Opportunity Officer Sheila Johnson-Willis formalizes a Dec. 15 meeting where "all parties … agreed to resolve this
matter informally" as long as the professor takes one or more courses through the Center for Teaching and Learning Excellence.
Options include participating in the Student-Faculty Partners Program, where faculty basically have a student minder from outside their discipline; a 10-hour "Inclusive Teaching 5-module series" that requires him to change his  course plan; and submitting a "course transformation grant proposal" that lays out his plan to adopt "inclusive teaching practices."
Johnson-Willis said each option neither restricts his academic freedom nor his free speech, and is based on "treating a mistake as an attempt at learning." The letter doesn't explain why Zubieta's characterization of the novel coronavirus – in a section he was forced to put on the syllabus – was a "mistake."
MORE: Asian student says Syracuse punishes Zubieta 'on behalf of' CCP
A Dec. 22 letter from his dean, Karin Ruhlandt, also emphasizes the professor would "release any and all claims" against Syracuse for how it violated his academic freedom and its contractual promises. It warned him not to disclose the agreement outside of "immediate family, tax advisors or legal counsel." (Oops.)
Zubieta agreed to retire in May 2023. He will perform his regular full-time faculty duties this spring and next, while taking full paid leave this fall and half paid leave the fall 2022 semester, and finish his time at Syracuse with 50 percent pay in the spring 2023 semester. The letter doesn't say which professional course(s) he agreed to take.
A Feb. 1 email from Zubieta to Johnson-Willis and LaVonda Reed, associate provost for faculty affairs, says he'll attend a series of Zoom meetings called "Transformative Hot Moments" Feb. 24, March 1 and March 11. (No such course is listed on the other two letters.) After the last session, his case will be closed and he can "pursue my regular duties and activities."
FIRE said the concessions were acceptable for Zubieta, "who is in his seventies and had initially planned on retiring last year at the onset of this controversy."
But Syracuse wronged him twice: by suspending him "in the first place" and then taking five months "to ultimately live up to its academic freedom promises. Syracuse's swift punishment for protected academic expression betrays its commitment to uphold faculty free speech rights, and chills the speech of all Syracuse professors."
The civil liberties group recently awarded Syracuse its Lifetime Censorship Award – also earned by DePaul and Rensselaer Polytechnic – for its "historically terrible record on free speech issues."
FIRE recognized the university's 16-year "unashamed assault on expressive freedoms that has continued despite a pandemic, a new chancellor, lawsuits, and countless FIRE letters, blogs, and press releases."
Read FIRE's blog post on Zubieta's return, which includes links to his correspondence.
MORE: Public university removes professor for calling COVID 'Chinese virus'
IMAGE: Foundation for Individual Rights in Education
Like The College Fix on Facebook / Follow us on Twitter