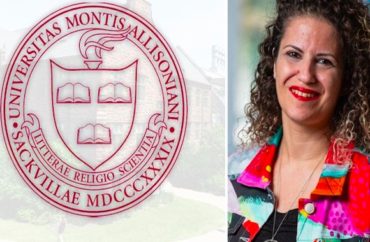 Last year Rima Azar was suspended without pay for personal blog posts in which she questioned the existence of systemic racism, called Black Lives Matter a "radical group" and talked about minority students in "unkind ways."
The health psychology professor at Canada's Mount Allison University also was required to undergo DEI — diversity, equity and inclusion — training.
One of the specific complaints against Azar was that she had used students' names when reacting to what they had posted on social media. The Students' Union president said it was "unprofessional to comment on students' beliefs" and that students had a "right to a safe learning environment."
According to the CBC, the Mount Allison Black Students' Union had wanted Azar relieved of her position, saying it was "disappointing and offensive to have our experiences ridiculed by an accredited professor."
Private arbitration hearings into the matter were held earlier this year, and now the result: Azar will be returning to the classroom in the fall.
In an early-April joint statement, the university and Azar said "all matters in dispute between them have been resolved […] All parties have agreed that fostering a respectful and inclusive learning environment — one which also recognizes academic freedom — is of the utmost importance."
MORE: Law professor may be fired after personal blog post criticized Chinese government
Students remained miffed, however, at the "secretive nature" of Azar's arbitration. Student Union President Rohin Minocha-McKenney said "It's hard to see if students and the community are being properly advocated for when there are closed-door sessions like this […] "We are disheartened to see how their proceedings were conducted entirely in private, but we understand why it had to happen."
Minocha-McKenney said the university has not indicated that any details of the arbitration process will be made public.

Despite this, Minocha-McKenney hopes there can be a healthier conversation about what academic freedom looks like.

"Academic freedom is not synonymous with free speech and requires much greater consideration of the ends at which it is aimed and the context in which it is situated," the student union said in a statement earlier this month. "Academic freedom is not inherently absolute and untethered, but situated with its end-based goal of creating a non-toxic learning environment."
Mark Mercer of the Society for Academic Freedom and Scholarship disagreed, saying at the time of Azar's suspension that her punishment was a "blow to academic freedom and to the vital tenet of free speech on campus."
MORE: Prof backs out of research project after 13-year-old 'racist, sexist' blog post resurfaces
IMAGE: True North / Twitter screencap
Like The College Fix on Facebook / Follow us on Twitter