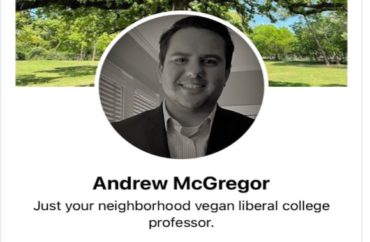 A history professor at Dallas College used the Tuesday morning death of John Madden to claim the NFL coach's hugely popular video game "dehumanizes" black athletes.
Andrew McGregor, whose research deals with "American culture, politics, race, and the history of sports," wrote Madden's football video game "was not a great development for the U.S." as it "help[ed] to establish plantation cosplay" which has only "grown worse in the era of fantasy football."
Madden (right), who led the Oakland Raiders' for ten seasons which included the Super Bowl XI title and a remarkable 103-32-7 overall record, "built a digital plantation" with his post-coaching enterprise, McGregor argues:
At every point in his career — coach, announcer, video game producer — Madden profited off of Black athletic labor and glamorized the violence inherent in the game. He became ubiquitous and grew the NFL into the most popular game, and hastened the development of esports.

Sure, there is a lot of significance to his life and his impact. But it's pretty clear most of his accomplishments were not beneficial or healthy for athletes, particular non-white athletes. John Madden made a life in football, one of the most violent and exploitative sports.

When your entire life is based on expanding and profiting off of one the of most violent and exploitative games, veneration is not exactly something that you deserve.
McGregor also retweeted a post which noted Madden's game "became so synonymous with video game football" that it was taken to court over its "monopoly." (It ended with a settlement.)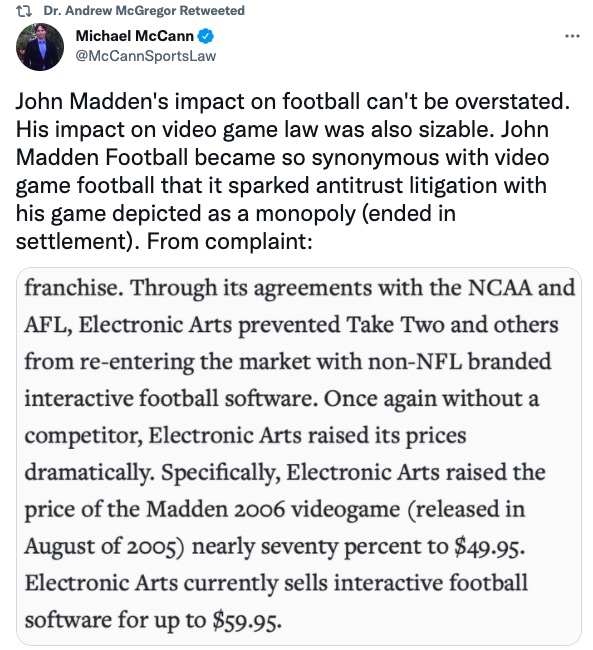 Four Christmases ago, the professor didn't seem to think playing Madden's game was such a big deal: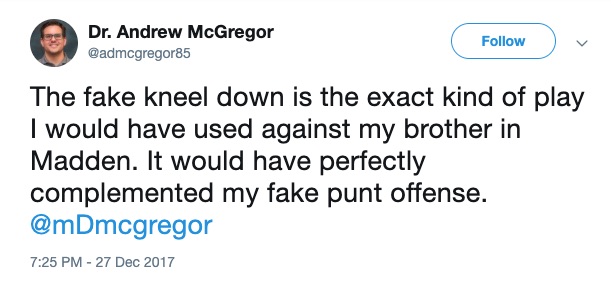 Based on the comments and reaction to his take on Madden's business endeavor, McGregor is, in Twitter parlance, being quite "ratio'd."
In September of 2020, McGregor ripped college football for much the same reason as the Madden game, writing that "America, after all, has a long history of exploiting Black and indigenous people of color for the pleasure and material gain of whites." He added "Amateurism and the very structure of college athletics is caught up in the United States' system of racial capitalism," and that "Black athletes are embraced on the gridiron and in the community as a way to assuage white guilt."
According to his Facebook page, McGregor is "just your neighborhood vegan liberal college professor" (see featured image). His online biography notes he "achieved moderate success" as captain of his high school track and cross country teams, and is an "unabashed booster of everything Kansas City."
Aside from lending his name to the wildly popular video game, Madden went on to become one of the most beloved NFL sportscasters, first with CBS and then Fox Sports. His longtime booth partner Pat Summerall, an NFL player in the 1950s and early 60s, passed away in 2013.
MORE: Black athletes called athletic center 'Plantation,' say they worked for white students to play golf
IMAGE: Scubasteve, David Burge, Michael McCann/Twitter screencaps
Like The College Fix on Facebook / Follow us on Twitter