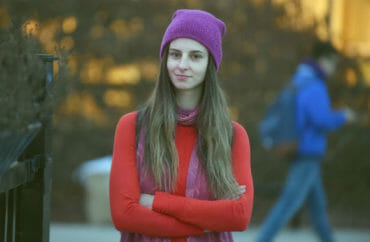 Also editing book on 'intersectional automations'
Nathan Rambukkana seemed to disappear for a year after he publicly apologized to his teaching assistant for accusing her of violating Canadian gender-identity law, known as C-16.
Wilfrid Laurier University's Lindsay Shepherd had shown her undergraduates a TV clip of a gender-neutral pronoun debate featuring the controversial University of Toronto psychologist Jordan Peterson.
Rambukkana, another professor and a campus diversity official called her into a meeting where they said this violated C-16 and created an "unsafe learning environment," as captured by Shepherd's surreptitious recording of the meeting. The administration later told Shepherd that meeting never should have happened.
Now he's back.
Shepherd noticed Thursday that Rambukkana's course page for "Robotic Intimacies," which he last taught in fall 2017, is starting up again for the winter 2019 term. She pointed out that he's returning "the semester after I graduated."
The Monday post by "Nathan R" tells students how to use the course blog in conjunction with the class but is otherwise silent about Rambukkana's whereabouts and activities for the past year.
The course is listed on the Communications Studies page as one of several "senior seminar" offerings. It will explore "the growing societal prominence of robots and the emergent field of human–robot communication," which raises issues including "campaigns against sex robots, racist AI rants, autonomous Google cars, and weaponized sentry bots."
He told me that one or multiple students complained about me; compared @jordanbpeterson to Hitler; told me that I had created a toxic environment that was threatening & targeted trans ppl, etc.

— Lindsay Shepherd (@NewWorldHominin) December 20, 2018
It is still unknown whether his leave was a paid leave.

— Lindsay Shepherd (@NewWorldHominin) December 20, 2018
Rambukkana's personal website, where he posted his apology to Shepherd a year ago but has been largely dormant in 2018, also sprung to life last month, as noted by Shepherd.
He's seeking proposals for an "edited collection" to be called Intersectional Automations: Robotics, AI, Algorithms, and Equity, which will explore "a range of situations where robotics, biotechnological enhancement, artificial intelligence (AI), and algorithmic culture collide with intersectional social justice issues, such as race, class, gender, sexuality, ability and citizenship."
Shepherd asked the university to consider the precedent it's setting by letting Rambukkana return to teaching:
So, a professor can invent a fake complaint, accuse someone of threatening trans people because they played a clip from [public affairs show The Agenda], and that person can be exonerated…but the professor will keep his job! No professional consequences! He gets to teach again and edit a book.
The College Fix has asked the administration to confirm Rambukkana is indeed the "Nathan R" leading the "Robotic Intimacies" class and whether he's teaching anything else, as well the conditions for his return to teaching and whether his leave was paid.
MORE: Inside Lindsay Shepherd's $3.6 million lawsuit
IMAGE: NeoUnrealist/YouTube
Like The College Fix on Facebook / Follow us on Twitter