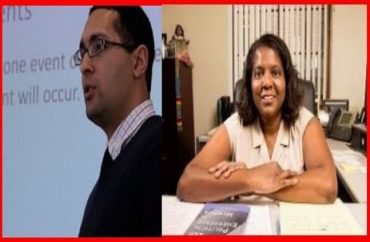 Crime is a top concern in the 2022 midterm elections, with over 75 percent of Americans saying it's "a major problem" according to a recent Politico/Morning Consult poll.
But in the view of some academics, there's actually a "nefarious" aspect to this worry: a "cryptic way of appealing to voters who blame racial minorities for crime or don't want a Black person representing them in Washington."
Oregon State University's Christopher Stout (pictured), author of "The Case for Identity Politics: Polarization, Demographic Change, and Racial Appeals," told U.S. News & World Report that when candidates and political ad creators "talk about crime, it's usually people of color."
Discussing crime is "'really a subtle way' to turn voters away from Democrats," according to Stout. "Republicans look at it as a way to win back some persuadable voters."
An example which "deftly meld both themes" is that of Wisconsin GOP Senator Ron Johnson and his criticism of opponent Mandela Barnes, who's black. Pro-Johnson ads feature Barnes saying "reducing prison populations is now sexy" and him standing by "graffiti-stained walls" which say "defund the police."
In Pennsylvania, GOP Senate candidate Mehmet Oz's "escalated soft-on-crime attack" against Democrat John Fetterman has made the race a lot more competitive than months prior.
For the University of Florida's Sharon Austin Wright (pictured), these tactics are "just coded language" regarding "suburbanites' fears about Black criminals coming into their communities."
The political science professor, who's putting the finishing touches on her book "Beyond Racial Capitalism," said that in the late 20th century GOP candidates would criticize things like busing and talk up "states rights"; now it's crime and being a "socialist."
The article points to past racial tactics by Richard Nixon aide John Ehrlichman, Ronald Reagan's invocation of "welfare queens" and the (in)famous Willie Horton ad in the 1988 Dukakis-Bush race.
Marquette Law School's Charles Franklin said Senator Johnson's strategies against Barnes come straight from the latter: "How could you not see that? How could you not see the echoes or near-plagiarism of Willie Horton?"
MORE: Profs weigh in on GOP convention: Trump is using 'coded racist language'
MORE: Professors claim it's racist to ask voters to renew registration
IMAGES: Oregon State, Twitter screencaps
Like The College Fix on Facebook / Follow us on Twitter