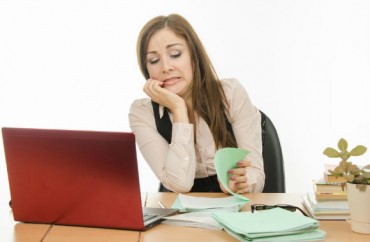 Does it protect 'mediocre performance' more than academic freedom?
University of Colorado-Boulder faculty were already skeptical of the course evaluations that the administration uses to gauge student opinion on courses and faculty performance.
A recent study of those faculty might make them even more skeptical: It shows they got worse ratings after they received tenure.
University of New Haven and California State University-Chico researchers obtained a large sample from CU-Boulder and identified 250 professors who received tenure over an 11-year period ending in 2017.
In their March working paper, Patrick Gourley (below) and Greg Madonia said post-tenure faculty saw a "small, but persistent, decline" in student course evaluations in two categories: "course overall" and "instructor overall."
They cautioned that the effect was "mainly driven" by e
valuations of professors' performances in the semester "immediately after" they received tenure.
The study raises questions about whether the stated purpose of tenure matches its effects. According to the American Association of University Professors, academic freedom is the "principal purpose" of tenure.
Jay Schalin, director of policy analysis for the Martin Center for Academic Renewal, isn't so sure. "Most schools have academic freedom protections encoded into their by-laws, and many states have enacted laws to offer academic freedom and free speech protections," he told The College Fix in an email.
How to deal with faculty who fail their obligations to students is "an old problem for as long as you've had tenure," David Randall, research director at the National Association of Scholars, wrote in an email. "The newer question is, are course evaluations a good way to deal with slacking professors? Or do they create worse problems?"
'It is virtually impossible to dismiss a professor' for low evaluations
Student evaluations have a history of being challenged by faculty as an accurate method for gauging effectiveness.
A year ago, CU-Boulder faculty approved a resolution that said administrators should "immediately" remove questions that ask students to rate the instructor and course "overall." Such questions are "highly likely" to bring up "personal identity," meaning the evaluations have the potential to be biased against "members of several protected classes," the Boulder Faculty Assembly resolution says.
Faculty asked the university to replace questionnaires with a student evaluation that is "evidence-based and uses questions designed to limit bias against protected classes." The resolution says those are already "in development."
They also voted in December to encourage administrators to invite "discussions about implicit bias and equity" in evaluations, the Daily Camera reported. (Such a mechanism was used in a study of potential gender bias in course evaluations: Students gave higher marks to female faculty when informed of their "unconscious and unintentional biases.")
Gourley and Madonia (below) said in their March study that they wanted to probe the "incentive system" of tenure, which has an "ambiguous effect" on classroom performance:
While a superstar researcher will be given a great deal of leeway on their teaching prowess, the average professor will need to show some aptitude in the classroom or their tenure request may be denied. … After tenure, however, teaching ability becomes almost a nonissue. While departments can put some leverage on tenured professors and penalize them for poor teaching, it is virtually impossible to dismiss a professor solely for low teaching evaluations at research universities.
MORE: Students give higher ratings to women when told they're biased
Tenure could plausibly encourage apathy "since future teaching evaluations are unlikely to affect their job security," they said, or it could spur faculty to "devote more resources to the teaching component of their job," since they no longer have "strenuous research priorities."
The researchers used "a fixed effects model to isolate intra-professor ability to focus on course evaluations right before and after tenure is awarded" – in other words, how evaluations changed among professors teaching the same classes.
The lowered measures of teacher quality perceived by students after tenure are "small but statistically significant," they said. Students reported less availability of their professors, lower effectiveness and less learned.
Gourley and Madonia cited a combination of two factors as their best explanation: Some instructors have "developed a routine" over several years on the tenure track and don't change after tenure, but others "decrease their teaching effort."
They recommended further study using "universities of similar caliber that have begun to eliminate the job security of tenure, such as the University of Wisconsin-Madison."
Gourley told Inside Higher Ed that even if professors simply made major life decisions after achieving tenure, such as having "a first child or more children," and that made their evaluations go down, that would still be "an indirect effect of tenure."
Does timing of worse evaluations just mean 'exhaustion'?
The researchers' findings "could simply be registering that tenured profs don't bother sucking up to students so much as untenured ones," the National Association of Scholars' Randall told The Fix, adding that the study was not "firing up my scandal-o-meter."
One of the bad consequences of student evaluations can be that professors inflate grades to pacify their students, he said. This is made worse because "the social justice advocates in the administration are adding questions on 'diversity,'" making it easier to set up faculty for "administrative harassment or firing."
Randall also said the concentration of worse evaluations in the semester after tenure is "probably registering exhaustion" after the "really, really, grinding" tenure process.
Given trends in higher education and the distinctive needs of universities, the case for tenure as job security seems stronger than to preserve academic freedom, the Martin Center's Jay Schalin told The Fix.
"Tenured professors are, on average, declining as a percentage of the whole," he said. "Maybe not so much at the most exclusive schools, but many schools are trying to keep costs down by hiring teaching specialists with long-term contracts or adjuncts."
Tenure is "no longer the sole guarantor of the right to express unpopular opinions," and the study by Gourley and Madonia suggests that "it provides security for mediocre performance," Schalin said. "If academic freedom bylaws and statutes were tightened up sufficiently, there really would not be any legitimate reason for tenure."
David McCord, a tenured psychology professor at Western Carolina University, put it succinctly in an interview with the Martin Center in 2016, when it was known as the Pope Center. "A university that really strives to give tenure to all instructional faculty is tying its own hands and feet in terms of dealing with an ever-changing world and fluctuating economy," he said.
MORE: Study finds students of all races prefer nonwhite teachers
MORE: Teacher suspended for showing Fox News documentary in class
IMAGE: Madhourses/Shutterstock
Like The College Fix on Facebook / Follow us on Twitter