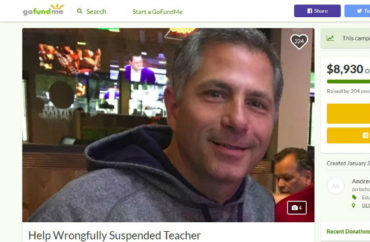 UPDATED
'When everyone else is complaining about every single thing Trump does, I don't participate'
What does it take for a conservative teacher at a liberal preppy school to get suspended, or even fired?
Showing his students a Fox News documentary that questions the conventional wisdom about campus sexual assault.
Ashe Schow at The Daily Wire, who appears in the documentary The Truth about Sex and College, covers the bizarre story of economics teacher Mike Poplardo, a 30-year veteran of the Bedford, New York school district.
The district not only suspended him for the lesson, which he saves for graduating seniors at the end of the school year. It appears to have retaliated against Poplardo when he informed parents why he had been suspended, "and included a copy of his lesson plan."
In a situation tailor-made for the Foundation for Individual Rights in Education, the district has weaponized the term "sexual content" to punish an educator for exposing his students to diverse viewpoints.
Poplardo claims he uses the documentary "as a jumping off point to a larger discussion about sexual assault," asking students to brainstorm how to avoid becoming a victim or getting accused.  No student has complained about the lesson plan since he started using the documentary in the 2016-2017 school year – rather, an anonymous tipster told administrators the documentary includes "sexual content."
MORE: FIRE sues LSU for equating swear words with 'sexual harassment'
According to Schow, this supposed content is "about three sentences in the entire 50-minute video that describe a particular claim of rape." Neither the district nor Superintendent Christopher Manno responded to Schow's queries about how the district would have responded to Poplardo showing his class The Hunting Ground (below), an earlier documentary "that affirms what the #MeToo claims about sexual assault in America."
The district had to argue that Poplardo, whose career is dominated by "highly effective" yearly evaluations, showed "incompetence" in his decision, and it subjected him to similar treatment as an accused student would receive in a Title IX hearing. The main difference: Poplardo's contract guaranteed him a union lawyer and the ability to "cross-examine the evidence," but not the tipster, who remains anonymous.
The teacher believes he was targeted for his quiet conservative views among vocally liberal teachers and staff at Fox Lane High School:
"They just don't like me because in the work room when everyone else is complaining about every single thing Trump does, I don't participate. I don't fight back if I'm outnumbered nine to one, but I don't chime in," Poplardo said.
MORE: Triangles on syllabus are sexual harassment?
While the school district only obtained a one-month unpaid suspension against Poplardo, rather than the six months it was seeking, the teacher claims the school lied about its settlement offer to him, which he rejected as financially ruinous.
Now it's trying to get his tenure revoked so it can fire him, issuing "seven more charges" in response to his letter to parents explaining his absence. Though the note included a copy of his lesson plan, Poplardo did not tell parents to click the Fox News link. He's appealing the finding against him to a local trial court, which in New York are known as Supreme Courts.
A friend set up a GoFundMe account to help the teacher with his family's costs while he's suspended. As of Wednesday afternoon it has exceeded its $8,000 goal.
Schow has many more details of Poplardo's disciplinary proceeding and the district's prior attacks on him. Read the article.
CORRECTION: The original article consistently misspelled the teacher's surname. It is spelled "Poplardo." All references have been fixed.
MORE: 'Hunting Ground' filmmakers suggest criticism violates Title IX
IMAGE: GoFundMe screenshot
Like The College Fix on Facebook / Follow us on Twitter