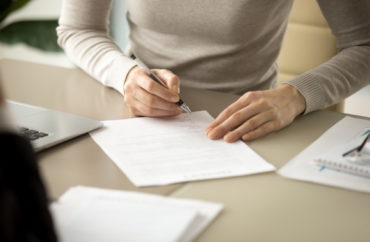 College has professor amend syllabus after College Fix inquiry
A professor at Brooklyn College in New York was told to change a classroom policy after The College Fix brought it up to the administration. The policy in question prohibited the "intentional misgendering" of the professor or anyone else in the class.
A source provided The College Fix with the syllabus as well as other relevant information for the class.
"My name is B. Call me B," wrote Professor Brandon Aultman in the syllabus for a class on Fundamental Concepts in LGBTQ Studies. "I am nonbinary, transfeminine."
According to Nonbinary Wiki, that term refers to a biological male "who seeks to present femininely, or to transition to look more feminine, or who identifies as more female than male."
"I use gender-neutral pronouns (they/them)," Aultman went on to write in the syllabus. "I adhere to a strict policy of respect for the gender, sexual, and racial identities of my students. Intentional misgendering, as with any attempt to slur another student's personal integrity on the basis of race, ethnicity, or religion, will result in immediate dismissal from class for that session."
Aultman concluded that section by stating: "Continued abuses will result in disciplinary action with the appropriate administrators."
The College Fix attempted to contact Aultman, who is not listed in the Brooklyn College faculty directory, through an old Yahoo! email address provided on Baruch College's website, which is in the same system as Brooklyn College. That email, the only contact information The Fix could find, is currently deactivated.
The Fix reached out to Brooklyn College spokesman Richard Pietras about the syllabus. Pietras provided an official statement on behalf of the college.
"Brooklyn College was not aware of this classroom guideline," the statement read. "The College believes that all classroom guidelines should be crafted to support learning, so the faculty has been asked to not dismiss students from the session, but rather to consider a range of effective pedagogies instead and to use the college policy with regard to gender discrimination."
The statement concluded, "Brooklyn College follows the New York City Commission on Human Rights Legal Enforcement Guidance on Discrimination on the Basis of Gender Identity or Expression: Local Law No. 3 (2002); N.Y.C. Admin. Code § 8-102(23)."
That law "prohibits discrimination in employment, public accommodations, and housing. It also prohibits discriminatory harassment and bias-based profiling by law enforcement."
While the law does not include a definition of "transfeminine," Aultman's identity, it does define a few other terms.
In one section it uses "non-binary" to describe "a person whose gender identity is not exclusively male or female. For example, some people have a gender identity that blends elements of being a man or a woman or a gender identity that is neither male nor female."
Additionally, according to the law, "gender non-conforming" describes "a person whose gender expression differs from gender stereotypes, norms, and expectations in a given culture or historical period. Terms associated with gender non-conformity include, but are not limited to, gender expansive, gender variant, or gender diverse."
The source who provided the syllabus to The College Fix mentioned the professor's policy might have violated an administrative policy on classroom expulsions, which the source also provided.
The guide, titled Addressing Challenging Student Behavior at Brooklyn College, describes three situations in which faculty are supposed to take action: "behavior that causes you concern," "a disruptive but non-threatening student," and feeling "threatened by a student's hostile behavior."
There is some ambiguity as to what "intentional misgendering" would fall into. It would appear to be best described by the first category, "behavior that causes you concern." In that event, the guide instructs faculty to reach out to students privately, rather than expel them from the class.
Pietras did not answer whether or not the policy violated any specific codes of conduct.
Although the college asked Aultman to change the policy, the Foundation for Individual Rights in Education, or FIRE, said professors do have leeway in how they administer their classrooms.
FIRE spokesman Daniel Burnett provided The College Fix with a statement from Adam Steinbaugh, the director of FIRE's Individual Rights Defense Program.
"Faculty members have broad latitude to direct the direction of classroom discussions," Steinbaugh wrote, "including how students interact with one another. Repeatedly violating a professor's parameters for discussion could form the basis for sanctions premised on disruption, if that disruption is substantial and material."
MORE: Prof's syllabus says don't say 'God bless you' in his class
IMAGE: Fizkes / Shutterstock
Like The College Fix on Facebook / Follow us on Twitter