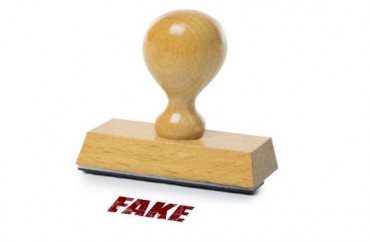 From the USC instructor that taught you about selfies
The role of universities in the fight against "fake news" has not yet been determined, but some professors are taking the initiative to teach students about it.
Oh, and to help them write their own fake news.
"How to Write and Read Fake News: Journalism in the Age of Trump," which reached its full winter enrollment of 142 students just before Christmas, is not part of any accredited university curriculum.
It's the latest online class in a six-year-old semi-satirical project called UnderAcademy College, created by Winona State University's Talan Memmott, identified as its "provost."
It calls itself "a shadow-academic environment offering alternative courses and anti-degree programs," and its primary mission is to "remain open, marginal, and unaccredited."

The "college" started as a response to the proliferation of massive open online courses (MOOCs) at institutions such as MIT, but its aim is to deliver a liberal-arts education in MOOC format, Memmott told The Chronicle of Higher Education in 2012.
Puns galore
The three-week fake news class is co-taught by Memmott and University of Southern California Writing Prof. Mark Marino, one of UnderAcademy's early instructors.
The free, open-enrollment course aims to "cover all the basics in producing and consuming real fake news," according to its description, which is written more like a satirical article in The Onion than a syllabus.
MORE: Meet the Ariz. lawmaker fighting liberal stranglehold on higher ed
"In the age of the RealFakeDonaldTrump, the fourth estate Journalism has been usurped by a fifth estate, Journullism," the description reads, calling Memmott and Marino "co-digressors":
In this course, we will teach: The five Ws of Fake News — who,what, where, why, and WTF, Digital Manipulation, photoschlopping (digital photography manipulation) hoaxing for fun and profit, and mild misleading. With a heavy emphasis on easing ethical anxieties, the course will help you learn to navigate the vicissitudes of a world unencumbered by empirical facts.

Reality TV was the first wave. The age of the Surreal Society is Upon us. And the supreme commander is Donald Trump. Don't sink under the waves of this tsunami of fake tsnews! [sic]
It asks students to "ROCK ENROLL" on a Google Docs form.
Our Fake News course launches January 20th! We are ready 2 raise the next-gen fact-free journalists! @UnderAcademy https://t.co/tWqrkwP4st

— Mark C. Marino (@markcmarino) January 4, 2017
Marino told "edtech" publisher EdSurge News that the Donald Trump course – scheduled to start on Inauguration Day – is not "pure satire" but rather an "artistic adventure" in which students will be prepared for their roles as "21st century jour-null-ists."
Intersectional selfies
It's not Marino's first artistic adventure. He taught a class on selfies to his own USC students and made public one of the assignments two years ago:
Take or choose 5 selfies of yourself. You may be alone or with another person, but try to make sure you are a central and large part of the photo. All of the selfies should be different.

Examine your selfies for your performance of

Race-ethnicity

Socio-economic status

MORE: Journalism students not learning about new flood of legal threats

Sexuality

Gender

Consider these identity characteristics independently and as they intersect.
Marino then tasked his #SelfieClass students with writing a "thesis-driven essay" on how their selfies "produce or obscure a sense of your identity," analyzing the photos for "three intersecting and overlapping identity characteristics."
#SelfieClass was featured by USC's in-house news operation. Marino told USC that selfies have a "delicious ironic energy around them" and are "iconic of our age," just as the self-portraits or religious journals of the past "were the selfies of their moment."
If we mislead people, well, so does The Onion
Addressing the potential ethical concerns of intentionally publishing "fake news," Marino told EdSurge News that his class is indeed like The Onion, which "has misled people in the past and again."
Misleading the public is a "price of engaging in a satirical activity" and will eventually "take away" some of the "power" of fake news, Marino said.
MORE: Male students to undergo 'critical self-reflection' of masculinity
Student assignments include "live mis-tweeting the inaugural address," creating fake digital images, and holding a mock State of the Union address in which the co-digressors "will try to mis-direct and mis-answer" the students, who will in turn "incorrectly" report the event.
Students will see if they can find "at least one online source" that verifies a fake news story, Marino said. They will also put their own fake news "into the self-publishing journalism eco-sphere," he added.
Marino's larger goal seems to be teaching students about serious subjects in a silly manner.
His "sillybus" for a previous UnderAcademy course, "Grammar Porn," says students will explore "the libidinal qualities of grammatical intercourse," but admits that the course "may very well be" simply an excuse "to make tawdry puns about punctuation."
MORE: Study selfies at USC and Indiana U. Northwest
Like The College Fix on Facebook / Follow us on Twitter
IMAGES: Shutterstock, UnderAcademy College screenshot, markcmarino.com screenshot