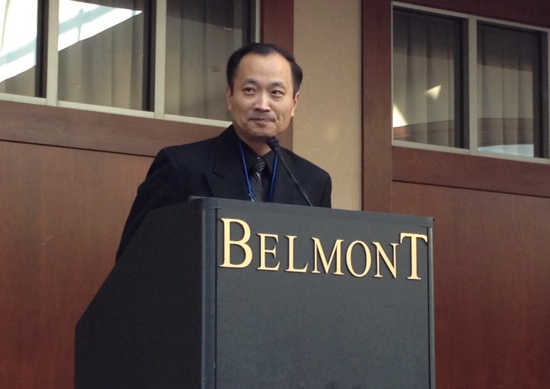 Editor's note: The following article is adapted from a speech by Dr. Ming Wang at the American Scientific Affiliation's annual conference held July 20, 2013 on the campus of Belmont University in Nashville, TN, entitled "Faith and Science: Friends or Foes?" Dr. Wang is a prominent eye surgeon and holds and M.D. from Harvard Medical School, as well as a PhD in laser physics from MIT.
Faith and science – friends or foes? What do we do when there appears to be a conflict between faith and science, such as in fetal wound-healing and stem cell research?
Should we conduct fetal tissue and stem cell research? If so, how can we justify harming an unborn child for the sake of helping an adult? If not, what if our loved ones are suffering from Alzheimer's and Parkinson's Disease, and stem cell and fetal tissue research represent the only hope for the successful treatment of these diseases, and hence, for saving their lives?
What would you do?
I would like to share an incredible story from my career as a doctor and scientist. It's a story of faith leading to discovery. A story of healing, and of a mother's gift. My own experience proved to me that science and faith can in fact find a way to work together.
The story begins when I was a medical student at Harvard Medical School and MIT conducting research and trying to figure out how we, as doctors, can reduce corneal scarring following eye injury and at the same time, restore sight.
I found that when an adult's eye is injured, it heals slowly and with a corneal scar, which causes blindness.
However, when a child's eye is injured, it can do something that no other adult human eye can do: regenerate and heal without scarring!
I really wanted to understand why a fetus has this magical scarless healing ability, so that we can apply what we learn to children and adults and help them heal without scar as well, therefore restoring sight.
But, how can we understand how a fetus heals without actually harming the baby? Should we do (fetal wound-healing) research, without protecting the fetus (which is a human life)? On the other hand, if we do nothing, we will never be able to understand the magic of the fetal scarless wound-healing process. We could miss a chance to, literally, restore sight to the blind.
The dilemma I faced as a medical researcher is a powerful example of the conflict that often rages between science and faith in our modern society today.
Has God really created such a seemingly contradictory world, with a conflict between science and faith that never seems to resolve? Or do we simply fail to see that following the moral standards of faith can actually point us in the direction of scientific discovery?
I realized that God does want us to persevere, to believe in Him, and to believe that the world He has created is not in fact contradictory, and that He does have a solution that allows us to advance science and at the same time maintain our moral and ethical Christian principles.
I realized that God never says that the pathway to truth is going to be easy or obvious. I realized that at the end I should not compromise my Christian faith, nor my belief in the sanctity of human life, in pursuit of medical discovery.
I persisted, and did not give up, believing that God does have a solution for us—even though we may have to work harder to find it. I was determined to solve this problem, and spent many days and nights in the laboratory believing that God would somehow open a door for us to continue the fetal wound-healing research and still allow us not to harm any part of the growing baby.
We stumbled upon a unique piece of tissue, the amniotic membrane, which connects and surrounds the fetus. Remarkably, it has the same biological wound-healing property as the baby, but, it is not a part of a baby. Moreover, the amniotic membrane is usually discarded (along with the placenta) following the birth of the child. I went to an obstetric ward and started collecting amniotic membranes donated by mothers who had given birth and transplanted them onto injured eyes.
We recreated the fetal-like environment by placing the amniotic membranes on injured adult eyes. When we removed the amniotic membranes "tent" over the injured adult eyes, instead of seeing a scarred and blind eye we did in the past, we actually saw a clear eye with vision!
So something truly magical happened: the adult eyes regenerated and healed without scarring, just like in a fetus! God had indeed shown us a way, to tap the wound-healing power of the fetus and doing the research the right way, by respecting the value of every human life!
We published the first scientific paper demonstrating laboratory success, corneal scar reduction and restoration of vision with amniotic membrane transplantation.
While our research team celebrated the wonderful scientific discovery (that amniotic membrane reduces corneal scar and restores sight), which I felt was gratifying, even more important to me personally was that it was in fact a validation that God does want us scientists to conduct research, but He wants us to do it in the right way, in a way that is moral and life-affirming.
Ultimately, the principles of my Christian faith helped guide me toward a powerful medical discovery with fetal wound-healing—all without harming the baby!
My research truly convinced me that God has created this world and it is indeed without contradiction. Through amniotic membrane, He powerfully showed us that we can in fact do research and advance science and improve the quality of human lives, and at the same time, maintain our moral and ethical principles (i.e. not harm unborn children).
Following this discovery, we invented a non-surgical delivery system for the amniotic membrane—the Amniotic Membrane Contact Lens (U.S. Patent Nos. 5,932,205 and 6,143,315) and furthered this research for years. Now, sixteen years later, it has finally become a commercially available product. Over 1,000 U.S. eye doctors have used the AMCL, and a large number of patients have had their sight restored!
If you've ever wondered whether faith and science can work together, my story is a powerful example that shows that in fact they can! My 16-year journey of discovering and developing AMCL proved to me that God is not an enemy of science. On the contrary, because God loves us, He does want us to conduct scientific research, to improve the quality of our lives. However, He wants us to do it in the right way—His way. So, as my story shows, following Christ can actually be a powerful doorway to scientific discovery!
______________________
Dr. Ming Wang, MD, PhD, grew up in communist China and immigrated to America where he graduated from Harvard Medical School and Massachusetts Institute of Technology (MD, magna cum laude) in Boston, Massachusetts. He holds a doctorate degree in laser physics, and was a founding director of the Vanderbilt Laser Sight Center. He is currently the director of the Wang Vision 3D Cataract & LASIK Center. Dr. Wang founded the Wang Foundation for Christian Outreach to China, and Wang Foundation for Sight Restoration, a 501c(3) non-profit charity, which has helped patients from over 40 states in the U.S. and 55 countries worldwide obtain sight restoration surgeries free-of-charge. He can be reached at [email protected], www.WangcataractLASIK.com, Wang Vision 3D Cataract & LASIK Center, 1801 West End Ave, Ste 1150, Nashville, TN, 37203.

Click here to Like The College Fix on Facebook  /  Twitter: @CollegeFix