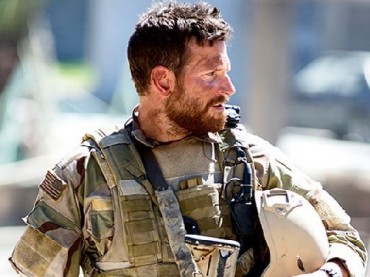 The Chronicle of Higher Education reports that a screening of "American Sniper" at the University of Maryland on Monday was tense, with some student protesters holding signs that read "MLK was killed by an American Sniper too" and "If you like American Sniper you may also like: — Racism — Murder — KKK — Holocaust — Fox News."
The screening at the public university had originally been canceled because some Muslim students complained the movie is allegedly an anti-Muslim, racist war propaganda film. University of Maryland administrators initially stood behind that decision, arguing that the screening was student-run, and it was students' decision to cancel it. After a national uproar, campus leaders allowed the school's College Republicans and College Democrats to cohost a screening and panel discussion.
The Chronicle reports campus police officers had to ask protesters to clear a space in the middle of the hall for passers-by to get into the theater.
Dueling demonstrations also stood in stark contrast to one another. One one side, "students had set up a table where attendees could write thank-you letters to members of the armed services," the Chronicle noted.
On the other side, "students in hijabs reached into a box of roses and gave them out to anyone with a free hand," it continued. "Evidence of recent weeks' controversy was tied, literally, to the flowers themselves. Words like 'raghead' appeared on slips of paper attached to their stems, quoting comments the Muslim Students Association said it had received after speaking out against the film. On the back were polite messages the group sent in response."
The report goes on to note the post-movie panel was "uncomfortable," with discussion moving between free speech rights and patriotism to the way Iraqis were portrayed in the movie. An animated audience weighed in with snaps and claps.
Like The College Fix on Facebook / Follow us on Twitter