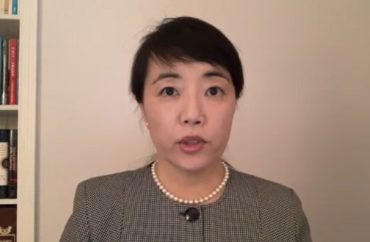 Though unpaid, she was able to leverage the Yale name for her benefit
Bandy Lee does not have a right to regain a volunteer teaching and research role at Yale University, according to a recent court ruling.
Lee, a psychiatrist, had been removed from her position at the Ivy League university after making diagnoses of President Donald Trump, his supporters and Harvard Law School's Alan Dershowitz. She said supporters of Trump suffered from a "spread of 'shared psychosis.'"
She sued the university in 2021. She also tweeted in October 2020 that Trump "spellbinds his followers ever more deeply" and compared him to Hitler, saying he was worse than the German dictator, before backtracking. She also wrote a book called "The Dangerous Case of Donald Trump" which included the opinions of 37 psychiatrists on the former president's mental health.
She has also multiple times demanded that Trump be put on a 72-hour psychiatric hold.
Lee held a volunteer position at Yale, and the judge dismissed her claims of contract violation. However, Lee argued that the position cost her valuable remuneration she would not receive without the prestige of Yale's name. "In exchange for her student-related and teaching activities, Dr. Lee received benefits, privileges, and opportunities," her original lawsuit stated. She also received "related compensation and other indirect but significant remuneration, that she would not have otherwise received but for her academic affiliation with Yale."
Judge Sarah Merriam, a federal district court judge, ruled that Lee "failed to adequately allege the existence of an implied contract because she has not alleged facts which, if proven, would demonstrate that Yale undertook a contractual commitment to reappoint plaintiff."
The judge granted Yale's three other motions to dismiss. Lee also argued Yale did not act in "good faith," did not protect her free speech rights guaranteed by the U.S. and Connecticut Constitution and made "negligent misrepresentation."
"I already expected this outcome when, after Yale's first motion to dismiss was denied, the presiding judge was promptly replaced without cause or explanation," Lee said, according to the New Haven Register.
"Also, the argument is much like the distortion of the Goldwater rule itself—misleading plays on impression instead of investigating the truth. Of course I am not giving up, since my reason for launching the lawsuit in the first place was for the public good."

— Bandy X Lee, MD, MDiv (@BandyXLee1) September 1, 2022
She said she is not giving up from her fight. "I am not giving up, since my reason for launching the lawsuit in the first place was for the public good."
MORE: Temple professor who compared GOP to Nazis resigns after probe
IMAGE: Dangerous Case Now/YouTube
Like The College Fix on Facebook / Follow us on Twitter