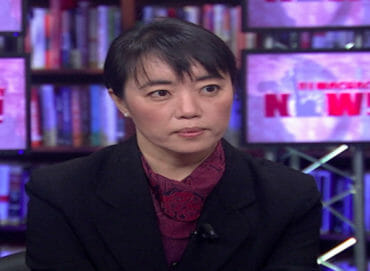 UPDATED
The Yale University psychiatrist who called for President Trump to be "contained" for an emergency mental evaluation recently compared Trump's influence over his followers to that of — yep — Adolf Hitler.
Psychiatry professor Bandy Lee tweeted out that a reporter shared with her an anecdote from her grandfather, a refugee from Nazi Germany:
A reporter whose grandparents were refugees from Nazi Germany related to me: "I cannot help but remember a conversation I had with my grandfather … about the firebombing of Dresden, whether he thought the Allies should be reproached for targeting civilians….

— Bandy X Lee, MD, MDiv (@BandyXLee1) October 28, 2020
Dresden was firebombed by Allied forces in February of 1945 in what is considered one of the more controversial (Allied) decisions of WWII. Up to 25,000 Germans were killed.
The sheer magnitude of Dresden's destruction still did not sway Germans from their devotion to Hitler, the grandfather said. So, naturally, Dr. Lee used the opportunity to compare that event to Donald Trump and Red America:
That comment haunted her, she said.

Needless to say, we are seeing the same phenomenon here, and every day that Donald Trump has exposure to the public, he spellbinds his followers ever more deeply, as mental health experts are precisely the ones banned from comment.

— Bandy X Lee, MD, MDiv (@BandyXLee1) October 28, 2020
This stepping into Godwin's law is no surprise coming from Lee; last summer the shrink and several peers participated in an online discussion where Trump's rallies were compared to Hitler's Nuremburg rallies.
At the beginning of this year, Lee wanted House Speaker Nancy Pelosi to put a "72-hour hold" on President Trump after he ordered a drone strike against Iranian terrorist Qassem Soleimani.
A couple months later when asked to offer an opnion on Joe Biden's mental state, Dr. Lee refused to offer an opinion. She said "I only speak up when there is a medical need of such great magnitude as to risk the survival of the human species. This is definitively Donald Trump, not Biden."
UPDATE: Lee upped the ante on Sunday by tweeting that Hitler was actually better than Trump: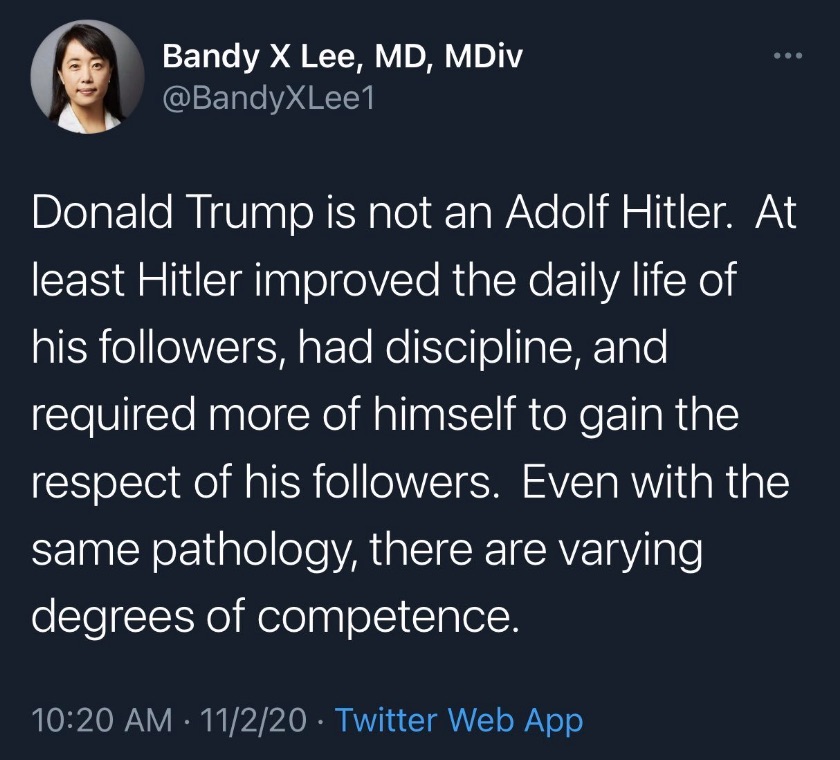 She's since deleted it, but offered an "explanation," including referring to COVID-19 in the US as "genocide":
If we cannot look at parallels in history and learn from them, we are truly poised to repeat it. I say so in heartbreak for the 11+ million lives lost, not in their minimization (currently, we are looking at 7 billion at risk, without exaggeration if we soberly thought of it).

— Bandy X Lee, MD, MDiv (@BandyXLee1) November 2, 2020
I look forward to the day when an aversion to comparison does not prevent us from recognizing genocide happening before us. On Friday, there were 100,000 new cases in a single day. Many will experience torture, long-lasting debility, and death. And overwhelmingly minority.

— Bandy X Lee, MD, MDiv (@BandyXLee1) November 2, 2020
Lee contacted The College Fix on November 3 to request we add her clarification:
To say that Adolf Hitler was more deliberate and calculating, by giving tangible benefits to his followers, is not to praise or deem him "better" than Donald Trump—in fact, it likely allowed him to stay in power longer and to commit greater atrocities.  Hitler was mentioned because I am writing a sequel to my "Profile of a Nation," which reviews psychological analyses of him, as well as of Pol Pot, Idi Amin, Jim Jones, and Ted Bundy.  Since my work is in violence prevention, I look for patterns and draw comparisons.  There are ways in which Trump could be more dangerous: his following is more irrational, not even needing tangible benefits to adhere to him.
MORE: Duke University shrink: Trump may be worse than Hitler, Stalin, and Mao
MORE: Yale's Trump-diagnosing shrink claims death threats
IMAGE: Twitter screencap
Like The College Fix on Facebook / Follow us on Twitter