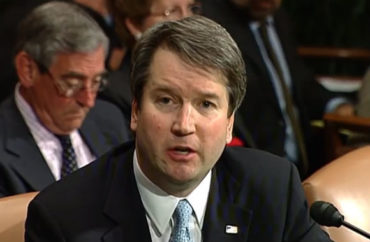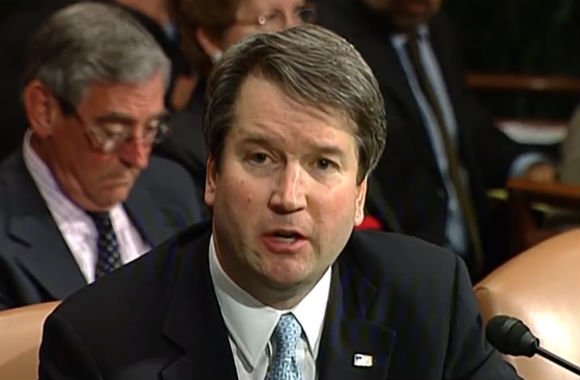 UPDATED
But won't answer whether it might use Title IX to punish him
"The Democrats are a demagogic, slandering party that subverts the democratic change processes in the Constitution and favors a dictatorship by judges and the president–a dictatorship of 10 people out of more than 300 million," according to Mitchell Langbert.
Is it any wonder students and faculty at Brooklyn College want this outspoken business professor gone?
Langbert was the subject of a campus protest today for his recent blog post, which compared the sexual-assault allegations against Supreme Court nominee Brett Kavanaugh to a game of "spin-the-bottle."
For the moment the administration is defending Langbert's First Amendment right to say "even speech that many experience as offensive." But a spokesperson twice ignored College Fix questions Thursday about whether he's been the subject of any sexual-misconduct complaints or whether Brooklyn College itself could bring a complaint without an accuser.
Under these circumstances, the administration could punish or terminate Langbert for creating a sexually hostile environment, and claim it has left alone his academic freedom.
That's how Northwestern University proceeded in two Title IX investigations of its professor, Laura Kipnis, after she wrote essays denouncing "sexual paranoia" on campus.
"Public university professors have a First Amendment right to speak out as private citizens on issues of public concern," Samantha Harris of the Foundation for Individual Rights in Education said in a statement given to The Fix on Friday.
"Yet across the country, professors' careers and livelihoods are increasingly threatened by outrage mobs from both sides of the ideological spectrum," said Harris, who serves as vice president for procedural advocacy. "Critics of Professor Langbert's comments should counter his opinion with their own instead of demanding his silence, his job, or worse."
First Amendment 'protects even speech that many experience as offensive'
The original Sept. 27 post, which Langbert has since revised, stated flatly that a person who "did not commit sexual assault in high school … is not a member of the male sex."
Democrat lawmakers have "jumped on a series of supposed spin-the-bottle crimes during Kavanaugh's minority, which they characterize as rape, although no one complained or reported any crime for 40 years," he wrote. The post is titled "Kavanaugh: A Modest Proposal."
Langbert called Democrats "a party of tutu-wearing pansies, totalitarian sissies who lack virility … [who] use anonymity and defamation in their tireless search for coercive power."
He concluded:
In the future, having committed sexual assault in high school ought to be a prerequisite for all appointments, judicial and political.  Those who did not play spin-the-bottle when they were 15 should not be in public life.
Provost Anne Lopes released a statement denouncing Langbert's "gender-biased and homophobic post that advocates sexual assault," calling it "offensive, obviously abhorrent, and contravening the fundamental values and practices of our community."
But she continued that the First Amendment "protects even speech that many experience as offensive, such as the faculty member's post." Lopes asked Langbert's critics to "respond to abhorrent speech with persuasion" and send her their comments.
I view the post as offensive, obviously abhorrent, and contravening the fundamental values and practices of our community. However, the First Amendment to the United States Constitution protects even speech that many experience as offensive, such as the faculty member's post.

— Brooklyn College (@BklynCollege411) October 3, 2018
'Perhaps more time should be spent on Horace and Swift'
President Michelle Anderson followed with a campuswide email Thursday after she returned from the campus demonstration against Langbert, hosted by the school's Young Progressives of America chapter.
Brooklyn College leadership "entirely" supports the sentiment at the protest, that "yes means yes and no means no!" she wrote:
What I saw at the demonstration this afternoon was inspiring. Our students are passionate, articulate, and committed to equality and justice. They share the core values of this institution, and together, we will make it a stronger and better college for all.
Corrinne Green of Young Progressives of America told CNN the group wants Langbert fired because he's "espousing sexual assault" from "a position of power." Langbert is tenured.
Cached versions of his post show that Langbert updated it sometime Wednesday morning. An extensive new introduction – longer than the original post – says he wrote it "in the tradition" of satirist Jonathan Swift's Modest Proposal, which proposes the Irish "relieve their poverty by selling their children as food for the wealthy British."
He wrote his post on the "defamation" of Kavanaugh in the same light as Swift's recommendation to eat Irish children: "I was surprised to learn that some readers took me literally, claiming that I advocate rape. … Perhaps more time should be spent on Horace and Swift, and less time on political indoctrination in college."
Langbert told CNN he had shown authorities the threats of violence he received in response to the post. "I appreciated that [the original post] may have been in bad taste and I have apologized for that and I will again. … I didn't mean to hurt anyone's feelings or cause them to not feel respected."
He was more defiant in an interview with the New York Post, threatening to sue Brooklyn College if it tries to terminate him.
"It's natural for males to be sexually exploratory," he told the Post: "As long as there is no coercion or violence, it's not a crime." He is not surprised students are calling for his termination because they are "indoctrinated in socialism in this school and they're trained to demand that anyone who disagrees with them should be fired."
He has no other choice but to "fight back against the totalitarian bigotry that Brooklyn College represents." Langbert is also known for his research into political homogeneity in academia.
In a tweet thread, First Amendment lawyer Ken White called Langbert an "imbecile" but said the First Amendment likely protects his comments, particularly given where he works: "Professors probably enjoy the maximum protection of any public employee under this doctrine."
He commented on his own blog, on "a national political issue," White wrote: "The school might win if it could show that the blog post is not merely offensive, but caused active disruption of the school." Otherwise it would have to show that Langbert's comments made him ineffective in his job – "say, if he supervised Title IX complaints."
An imbecile named Mitchell Langbert, employed (possibly as a prank) by Brooklyn College, wrote a strivingly douchey blog post. Can he be fired, as many urge? A mini-lawsplainer. /1 https://t.co/sgr8slH2Ki

— NumberOneHat (@Popehat) October 3, 2018
Filing a complaint without a complainant
President Anderson skirted around the issue of sanctions against Langbert, as his critics are demanding, in her message to the community.
"Students have expressed deep concerns about the faculty member's statements and position at the college," she wrote. "We take these concerns seriously. This morning, I met with leadership from student government, as well as student protest organizers, to discuss their concerns and to consider constructive responses we could take together."
Anderson and Lopes and hosting a "Speak Out" next week and a "Teach-In" after that. Citing "local and national events around sexual assault," the president then gave the community a hint about how to deal with Langbert.
She encouraged the community to report incidents to the Title IX office if "you, or someone you know, has experienced sexual harassment, gender-based harassment, or sexual violence."
Media Relations Manager Ernesto Mora did not answer the original question from The Fix about whether the provost's statement meant Langbert will not face possible sanctions for his comments.
Asked again for an answer, and whether Langbert had received Title IX complaints, Mora said these are "personnel matters" and the college must protect employees' privacy. The Fix did not ask for the identity of anyone who filed a complaint.
Mora also declined to answer whether college policy, or its unofficial practice, allows the administration itself to bring a complaint without a complaining witness.
This was the method by which Yale University initiated a Title IX proceeding against its basketball team captain, Jack Montague, so it could expel him, according to Montague's lawsuit against Yale. His accuser only wanted him to go through "sensitivity training," which would let him remain a student.
According to Montague, this procedure did not exist in Yale's written policy. Trial is scheduled for this month.
Instead, spokesperson Mora pointed The Fix to a Justice Department website on Title IX and the City University of New York's website "to search for institutional policies" that cover all CUNY components, including Brooklyn College.
CUNY's sexual misconduct policy, last updated in June, does not appear to mention a college's ability to file its own complaint, without a complaining  witness.
Mora did not respond to a subsequent email reiterating that The Fix is not asking for the identity of any complainant, but simply whether it has received any complaint against Langbert.
Read the CNN and Post articles and Langbert's blog post.
UPDATED: The Foundation for Individual Rights in Education sent The Fix a statement Friday defending Langbert's right to keep his job despite his offensive speech. It has been added.
MORE: Langbert's research on political homogeneity in the academy
IMAGE: MSNBC/YouTube
Like The College Fix on Facebook / Follow us on Twitter