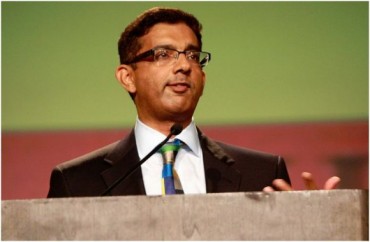 UPDATED
Start making your fake IDs for Gonzaga University now, because the Jesuit institution doesn't want you to hear Dinesh D'Souza's message if you're not already on campus.
The Young America's Foundation said Monday that Gonzaga has turned down its campus chapter's request to open the conservative commentator's Feb. 24 lecture to the broader public:
In a statement to Young America's Foundation, student activist Ben DuBois commented, "In my conversation with Director of Student Involvements… I was told that Dinesh D'Souza was allowed to speak at Gonzaga, with the stipulation that the speech is only open to Gonzaga students and faculty, and not the community." …

DuBois elaborated on his interactions with top administrators, explaining to YAF, "I was told that the reason that his speech is not allowed to be open to the public is because, through [the Director of Community and Public Relation's] research, she determined that Dinesh D'Souza's beliefs are contradictory to Gonzaga's 'social justice' mission and they do not want the public to question why the school brought him in. For example, he is 'homophobic' and 'anti-immigration.'" D'Souza is, of course, himself an immigrant to this country, a fact that was apparently lost on the administrators.

DuBois said the school went further, telling him "that through the research they deemed Dinesh D'Souza a 'nasty guy' who is 'way out there' and has been 'caught in many lies in his past.'
Yep, Gonzaga makes policy decisions based on whether a person is "nasty."
YAF said Gonzaga has only opened "blatantly liberal" events to the public. DuBois said administrators could only name one other event intentionally closed to the public – another conservative speaker a few years ago.
Gonzaga reached out to The Fix with its own statement, reprinted in full below, implying that D'Souza's closed lecture was a compromise with those who wanted to ban him entirely from campus.
Clarification regarding Dinesh D'Souza address at Gonzaga

Gonzaga is welcoming political commentator Dinesh D'Souza to campus to speak on Feb. 24.  This event is sponsored by the College Republican student organization. The event is open to the Gonzaga community – students, faculty and staff.  It is not open to the general public.

The parameters of this event are in line with Gonzaga's longstanding and common practice of balancing a broad spectrum of viewpoints while providing a supportive learning environment. Since September of 2013, GU student organizations and clubs have hosted 3,485 events, with 63 percent of those events open only to members of the Gonzaga community.

"While we are very much a part of the Spokane, Inland Northwest and global communities, our events at their core are intended to advance an exemplary learning community that educates students for lives of leadership and service for the common good," said Colleen Vandenboom, Ph.D., Assistant Dean of Student Involvement and Leadership. "We strive to invite the public to many student events, but as a practical matter we need to have reasonable limits."

As with all events, the decision to have Mr. D'Souza speak on campus was made after careful consideration and review of Gonzaga's Events Policy, Vandenboom said.

Congruent with this policy, "Our responsibility is to our students," Vandenboom said. "We want to promote discussion and learning, and do so in a supportive learning environment."

"We've heard from those who advocate Mr. D'Souza's visit with the College Republicans be open to everyone, and we've heard from those who believe he should not be allowed on campus," Vandenboom said. "We believe this approach where members of the University community can hear Mr. D'Souza, ask him questions and have an open dialogue in a supportive setting strikes the right balance – particularly for students."
UPDATE: Gonzaga's statement in response to the outcry has been posted in full.
Like The College Fix on Facebook / Follow us on Twitter
IMAGE: Gage Skidmore/Flickr