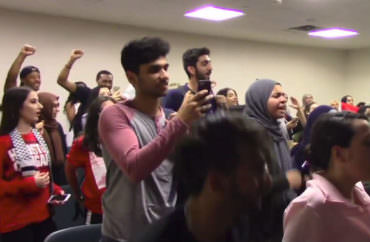 But allegedly it let in protesters before others, who were blocked from coming in
Every now and then, a public university's lawyers can talk it out of plainly unconstitutional actions against community members, saving themselves needless hours of fighting a resulting federal lawsuit and then ignominiously settling.
The University of Houston listened to its lawyers after being warned by the Foundation for Individual Rights in Education that it can't impose a security fee on a student group based on opposition to its invited speaker.
After the campus chapter of Young Americans for Freedom told an administrator that conservative David Horowitz was bringing his own security, a campus police officer told the group – five days before the event – it would have to pay for whatever security campus police "saw fit to require," according to FIRE's Ari Cohn, director of its Individual Rights Program.
The officer wrote:
As you are aware there is sometimes opposition to Mr. Horowitz' message, and with the recent reservation made by a particular student organization to hold an event in the same building, and at the same time as Mr. Horowitz, we believe there is a high potential for tension, and possibly conflict.

Therefore, we anticipate having to take a measured approach to the situation to protect the rights and safety of all.
Around this time, Horowitz's organization said the university was home to "an increasing radical and Hamas-promoting chapter of Students for Justice in Palestine," given that it was hosting SJP's national conference a few days later.
It added the university to its "Top Ten Worst Schools that Support Terrorists" and plastered the campus with posters "exposing the links between Students for Justice in Palestine and the terrorist organization Hamas, whose stated goal is the destruction of the Jewish state."
MORE: Southern Poverty Law Center encourages admins to intimidate conservatives
Just as it did with New Mexico State University this summer when it demanded a last-minute $300 security fee to let the "controversial" Horowitz speak, FIRE contacted the University of Houston's general counsel and was assured the day before Horowitz's event that the unconstitutional fee would not be applied to YAF, Cohn wrote.
But the controversy didn't end with two sets of lawyers agreeing on a course of action.
Student newspaper The Cougar reported that Horowitz's event drew "a coalition of progressive student groups," who helped fill the room to capacity so that not even its own reporters could get in:
Shortly after the event started, dozens of protesters left marching, opening up room inside, but security did not want anyone entering after Horowitz began speaking. …

[Student Sarah] Zidat said she and other protesters listened to the introduction of Horowitz's speech before Zidat stood up and yelled, "David, your bigotry is not welcome on campus, and we do not welcome your presence here either."

Protesters from inside the Science and Engineering Classroom Building marched outside, meeting up with dozens more, and all began chanting "Racists — off our campus." Then they marched down the side of the Science and Engineering Classroom Building also shouting "Undocumented — Unafraid" and "Black Lives Matter."
Horowitz's organization described them as "Students for Genocide" in a video from the event that shows them interrupting his speech with chants.
Despite the university not applying a security fee to YAF based on expected opposition to Horowitz, it lived up to its "red light" speech-code rating from FIRE the day of the event.
Karen Ben-Moyal, president of the YAF chapter, told Breitbart that "roughly 40 students and Houston community members" were turned away by campus police:
"I specifically asked UHPD to let in the people who were there for the event first and then, let in the protesters afterwards," she said, describing feeling "horrified" that campus police instead allowed protesters into the room but left so many of the people who came to see Horowitz outside the venue. She stated that after the protesters exited, UHPD told those remaining on line to leave only permitting a few YAF members' parents, including her mother and father, to enter.

Breitbart Texas spoke to UH Media Relations Executive Director Mike Rosen who called the event "first come, first serve" and disputed that people got turned from attending the event. However, based on social media footage, it did not appear as if people filed in to fill the many seats left empty by departed protesters.
FIRE's Cohn said in the post that his organization only evaluates a university's written procedure to determine its speech-code rating.
The University of Houston's preference for disruptive protesters over audience members who came to listen shows that it practices what it preaches.
Read the FIRE post, Cougar report and Breitbart report.
MORE: Professor surprised people took her 'Finish them off' tweet as imminent threat
IMAGE: David Horowitz Freedom Center/Vimeo
Like The College Fix on Facebook / Follow us on Twitter