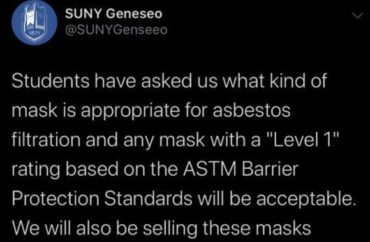 Twitter apologizes … after SUNY-Geneseo deletes all the tweets
These are rough days for scholastic satire.
Syracuse University punished and doxxed fraternity pledges for participating in private satirical sketches – and got away with it last year.
Babson College fired a professor and pretended he wasn't a professor, all because he privately made the same joke as a Christian satire website – and so far is getting away with it.
The State University of New York-Geneseo even conned Twitter into handing over control of a student's account parodying the school – and mostly got away with it.
Business Insider reports on Twitter's contempt for its own rules when SUNY-Geneseo complained that the newly created "SUNYGensseo" was impersonating its official Twitter account.
Rather than suspending the misspelled account for portraying "another entity in a misleading or deceptive manner," as its policies lay out, Twitter just gave it outright to the taxpayer-funded institution – locking out its creator Isaiah Kelly even after the student changed the account to make plain it's a parody.
He was mocking the university even before several dorms lost power "for nearly 24 hours, leaving affected students without central heating as temperatures hit the mid 20s":
Kelly posted tweets from the account mocking the school's Twitter announcements, including one where he joked that the school's main library — closed this semester due to asbestos exposure — would remain open, and students would instead be provided with surgical masks. When the blackout ensued on campus, Kelly tweeted, "lol forgot to pay the power bill," followed by a post saying the school's president would hand out cookies "since we have nothing else to offer our students."
At first Kelly thought the university hacked his school email – as it can technically do – in order to wrest control of the Twitter account from him, since "the new email associated with his account appeared to match that of a school administrator."
SUNY-Geneseo responded in a tweet thread that "we have a sense of humor" (it doesn't), "won't try to stop" students from making fun of the third-world university (literally what it did), and passed the buck to Twitter for transferring access to Kelly's account (without noting Twitter's "impersonation" rules don't allow that).
MORE: Judge rules Syracuse doesn't have to honor its promises to students
including the use of social media, and situations where the joke is on us. We might not always laugh along, but we won't try to stop it or take it down either. The latest buzz on Twitter is that we hacked a student's Twitter account (2/9)

— SUNY Geneseo (@SUNYGeneseo) January 30, 2020
It only acted when "people who had been misled by the fake tweets" (and who apparently can't spell the university's name correctly) notified the university of the parody account.
The fun-loving administrators claimed that jokes about asbestos and unpaid electric bills "could put the health and safety of our community at risk." Ah yes, the buzzwords favored by authoritarian governments.
And like all authoritarian governments, they won this battle: The account remains suspended.
Satire, parody, and mockery are permissible and even entertaining when done well. But copying trademarks without alteration and mimicking official statements could put the health and safety of our community at risk. (8/9)

— SUNY Geneseo (@SUNYGeneseo) January 30, 2020
When Business Insider asked Twitter why it ignored its own impersonation rules and handed over the account to the target of the parody, the pathetic social media company admitted it broke its own rules. It was an unexplained "mistake."
One in which the target of a parody was empowered to remove everything making fun of it, and in fact did.
Because the tweets could be "confused with official communications from the College" – that is, if you're a dumb person viewing a misspelled account that sounds nothing like the corporate blather typical of university Twitter PR.
Perhaps SUNY-Geneseo simply thinks its community is dumb and credulous. They may be right. Why would anyone choose to prop up this execrable institution with their presence, much less their tuition dollars?
MORE: Babson College erases evidence it fired 'professor'
IMAGE: SUNYGenseeo/Twitter
Like The College Fix on Facebook / Follow us on Twitter