Scrubbed website of all mentions of him as faculty
Two private colleges are refusing to engage with criticisms of their decisions to censor or punish political speech, though one of them appears to have escaped scrutiny by a group that defends faculty rights.
The American Association of University Professors backed off its threat to investigate Babson College for firing an adjunct professor after he joked about Iran bombing American "cultural sites" such as the Mall of America and a "Kardashian residence."
A spokesperson for the group told The College Fix that the incident didn't concern academic freedom, accepting Babson's claim that Asheen Phansey (above) was a staff member, not a professor.
Phansey, however, was scheduled to teach a marketing course two weeks after his firing. The Foundation for Individual Rights in Education said the Massachusetts college scrubbed that information from its website – and other references to Phansey as faculty – when it started publicly claiming he wasn't faculty.
FIRE has sought answers from Babson and Delaware's Wilmington University, which removed an art exhibit depicting President Trump's beheading, for their recent actions. A spokesperson for the civil liberties group told The Fix Monday that neither has responded.
Babson has twice tried to mislead The Fix about Phansey's status. Last month Michael Chmura, public relations director, asked for a correction when The Fix referred to Phansey as a professor, saying the headline should refer to a "staff member." (He was also director of sustainability.)
Informed that Babson's own website listed Phansey as faculty, Chmura did not respond. Asked to respond to FIRE's newer claim that Babson did not appear to have treated Phansey's post as a true threat, Chmura ignored the specific questions and reiterated that the matter concerned a staff member. (He has never referred to Phansey by name.)
Wilmington University has also stayed mum on allegations that it violated its own policies by removing the anti-Trump artwork. In a phone call last week, Laurie Bick-Jensen, director of public relations, asked The Fix to send her questions over email instead. She has yet to respond to email questions.
'The case did not meet our criteria for investigation'
Phansey drew public attention after he mocked President Trump's tweeted threat to bomb Iranian cultural sites. Making fun of the perceived lack of cultural sites in America, he said in a private Facebook post that Iran should tweet a similar list in retaliation.
Babson fired him a day after promising a "thorough investigation" into Phansey's post, which prompted an open letter from four civil liberties organizations, a teachers group and 160 authors, artists, and academics including author Salman Rushdie and musician Rosanne Cash.
They called it "deeply disturbing" that Phansey was terminated for a "satirical" and "mocking" post that included "no hint of harassment, incitement to imminent violence, nor any other category of speech outside the safeguards of the First Amendment."
As a political comment with "no nexus to his role as a professor or administrator," Phansey's post warrants "the highest level of protection," they wrote.
The administration's actions "contravene Babson's own stated commitments to free speech and academic freedom," the letter said, calling for Phansey's reinstatement to both positions. Fifteen Babson academics signed the statement.
MORE: Fired for making same joke as Christian satire website
AAUP also sent Babson a letter, saying Phansey's firing from a "part-time faculty position" violated the "normative standards of academic due process" set forth in AAUP's 1940 academic freedom principles and 1958 statement on procedural standards.
Babson's faculty handbook "incorporates" the 1940 principles and includes "freedom of extramural utterance" – such as a satirical Facebook post – in its definition of academic freedom, the group said.
The Jan. 23 letter said the AAUP had gotten most of its information from Phansey himself, asking for the college's side. Within three weeks, AAUP had closed the matter.
"We are not investigating Babson College as the case did not meet our criteria for investigation," Rachel Larris, communications and social media strategist, wrote in an email to The Fix Feb. 12. "The principles of academic freedom as espoused by the AAUP are only applied to faculty and not to administrative staff."
The Fix has asked Larris to explain how Phansey was not faculty when he was fired, given his scheduled class.
MORE: Court orders private college to honor 'academic freedom' promise
AAUP sends letter to @Babson College about dismissal of Asheen Phansey for his jocular comment on Facebook concerning President Trump's tweeted threat to bomb Iranian cultural sites. https://t.co/yhxXz9kq7G

— AAUP (@AAUP) January 23, 2020
'Cooperation' with law enforcement contradicted by public records
FIRE, which put Babson on its 10 worst colleges for free speech this year, has continued to question Babson's statements since Phansey's firing.
It pointed to since-removed college web pages that refer to Phansey teaching at Babson. More recently FIRE has highlighted Babson's consistent claim that it was "cooperating with local, state and federal authorities" in response to the "threatening words and/or actions."
FIRE said Jan. 23 that it could find no record of reports about Phansey's post to the city or campus police, both of which are required by state law to keep a "daily log" of their responses to reported crimes and "valid complaints."
The Wellesley Police Department said it had none regarding Phansey during the relevant time period, and a person who claimed to have recently viewed the campus police file said no reports mentioned him. Law enforcement officials told The Boston Globe that Babson called them to warn of "a potential media firestorm," though.
MORE: Babson used hearsay to condemn pro-Trump students for 'victory lap'
In 2016, we defended conservative Babson students who faced punishment for celebrating President Trump's election.

In that case, Babson ultimately protected freedom of expression.

But not this time.https://t.co/7gpRPb6Yrw

— FIRE (@TheFIREorg) January 10, 2020
In an update Monday, FIRE posted Massachusetts State Police's 450-page response to its public records request. It revealed no "police reports, incident reports or other reports" generated by state police regarding either Babson or Phansey Jan. 4-11.
"If [Phansey's] post was ever reported to law enforcement, they apparently didn't view it as a threat, much less do anything requiring Babson's 'cooperation,'" wrote Adam Steinbaugh, director of FIRE's Individual Rights Defense Program:
Rather, it appears that Babson's leadership repeatedly lied because they needed the public — and perhaps their board members — to believe that Phansey's post was a threat, and they cloaked themselves in the credibility of law enforcement in order to leave the impression that the college was dutifully cooperating. Because if the post wasn't a threat, then they were firing an adjunct faculty member for his personal political views.
The Fix reached out Feb. 12 to Chmura, the Babson spokesperson, to ask whether it would welcome back Phansey as a professor; to respond to FIRE's claim that it didn't report him to police; and to explain how it was "cooperating" with authorities.
He directed The Fix to Babson's public statement but did not answer questions:
Babson College conducted a prompt and thorough investigation related to a post shared on a staff member's personal Facebook page that does not represent the values and culture of the College. Based on the results of the investigation, the staff member is no longer a Babson College employee. As we have previously stated, Babson College condemns any type of threatening words and/or actions condoning violence and/or hate.
Asked the same questions again Feb. 13, Chmura has yet to respond to The Fix.
MORE: Syracuse charges fraternity members with satire
Babson College claimed it was "cooperating" with Massachusetts State Police over a professor's "threatening" Facebook post.

It turns out that wasn't true.https://t.co/IXDIff645b @babson

— FIRE (@TheFIREorg) February 17, 2020
Violates conditions of its accreditation, contract with students
Wilmington University drew a smaller backlash after it removed a parody of Caravaggio's 16th century "Judith and Holofernes" that showed Lady Liberty beheading President Trump (below).
The online student art show, which featured the exhibit, was set to run Jan. 13-Feb. 14. Staff initially approved the parody artwork but took it down after someone sent a screenshot "to the school, government officials and local media," the Delaware News Journal reported Feb. 5.
"This act of censorship contradicts the laudable public commitments" the college has made to the "freedom of artistic expression" of its students, FIRE, the National Coalition Against Censorship and writers group PEN America wrote to President LaVerne Harmon Feb. 7. (FIRE provided the letter to The Fix.)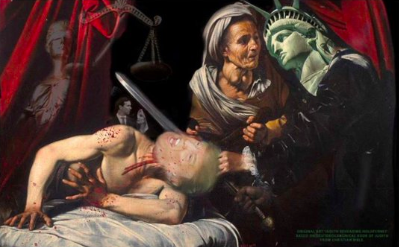 The student handbook says none of its provisions "prohibit conduct that is legitimately related to course content, teaching methods, scholarship, or public commentary of an individual faculty member or the educational, political, artistic or literary expression of students in classrooms and public forums."
The university itself extols "[a]ppreciation of creative expression including arts and humanities" as one of its core educational values, the letter notes.
Students have an expectation that the university will uphold its contractual agreement with them, a precedent enshrined in court cases including a ruling against Fordham University last year, the groups argue.
The letter also mentions a court ruling against Marquette University for trying to fire a professor for criticizing a colleague in a blog post, citing its adoption of the AAUP's 1940 academic freedom principles.
Wilmington University's accreditation could also be at risk because its commitment to freedom of expression is a condition of that accreditation, they said.
The groups asked for a response by Feb. 10, since the art show was scheduled to end Feb. 14. According to FIRE, they never got one.
Civil liberties groups warn Wilmington University its censorship of student art violates its own rules by The College Fix on Scribd
MORE: University gives a pass to professor who incited real violence
IMAGES: Asheen Phansey/LinkedIn
Like The College Fix on Facebook / Follow us on Twitter