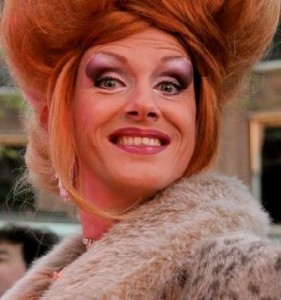 A recent workshop hosted at the University of Nebraska-Lincoln taught students how to be drag "kings and queens."
The "How To Do Drag" event was held Sept. 25 on campus and offered students tips on cross-dressing, make-up and stage presence, ideas presenters encouraged the students to try out at an "Open Drag Night" set to take place at the Lincoln-based gay nightclub Karma this Saturday, the Daily Nebraskan student newspaper reports.
"I'm super stoked about all the people that came, and hope they consider going to open drag night," cohost Lennex Bower-West told the newspaper.
The university will also host its own drag show on campus Oct. 24. 
The workshop was hosted by the University of Nebraska-Lincoln's LGBTQA Resource Center and Spectrum, a recognized student organization on campus that serves undergraduate Lesbian, Gay, Bisexual, Transgender, Queer/Questioning, Asexual/Aromantic students.
Students were taught that the drag-show community is fun-loving, and that "veteran performers teach tips and tricks to the newer kings and queens," the Daily Nebraskan reports, adding:
The workshop also taught potential performers about selecting music and to use their bodies in interesting and enjoyable ways.

There was also a portion on how to create a overall look in drag, this is every thing from hair and makeup to outfits and hiding sexual features with different techniques. The workshop was concluded with a basic lesson on stage presence, which emphasized fun and confidence saying that if you're having fun the audience will as well.

… "Gender is such a complicated thing, a drag show essentially is messing with gender and what is expected," [co-host C Styles] Balta said. "It's doing gender extremes but also enjoying it, having fun and accepting that we are all ourselves and no one fits into anything."
The newspaper, which billed the event as "the first of its kind," adds the room in which the workshop was hosted appeared "nearly full" of students.
Like The College Fix on Facebook / Follow us on Twitter
IMAGE: Main, Michiel S./Flickr; Inside, Internet screenshot