Scholar removes term from his syllabus amid backlash
A professor of construction management at Purdue University is getting heat for using the term "Wuhan virus" in his course syllabus.
According to The Exponent, no one even noticed until halfway through the semester, and then it "sparked upheaval in the class group chat."
A prefer-to-remain-anonymous student told the student paper the politically incorrect term for COVID-19 even stayed up on the course's homepage for almost two weeks after someone brought it to Professor Randy Rapp's attention.
Though Rapp ultimately changed the syllabus's wording, he said the term was just like any other malady referred to by its place of origin, like "Spanish flu."
"Wuhan virus is a simplification, not in the least illegal, immoral, unethical, inaccurate or dangerous," Rapp told the Exponent. "Of course, there is nothing political about that phrase."
He said the term had been in his syllabus before the semester and in "assorted communications of mine since the disease struck," a total of about 22 weeks. "So many people read the words […] and said nothing about the term — rightfully not."

MORE: Prof suspended for calling COVID 'Wuhan flu' reinstated – w/conditions
Some begged to differ, the Exponent reports:
Zhi Zhou, an associate professor of civil engineering and environmental and ecological engineering, said he, as a Chinese man, views the terminology of "Wuhan virus" as harmful.

"Unfortunately, Asian hate crimes have increased significantly," Zhou said. "As reported by NPR in August 2021, there have been more than 9,000 anti-Asian incidents since the pandemic began.

"Another NBC report in October 2021 showed that anti-Asian hate crimes rose 73% last year, according to FBI data." …

[Purdue senior Dimitri] Karallas said his concern that such language was harmful to the Asian community was one of the main reasons he confronted Rapp.

"Asian hate crimes have risen," he said. "And when you put this blame of this world disease on one specific group, people will just look at that group just like they are to blame for when really, it could have happened anywhere in the world."

To Karallas, the issue felt political.

"The only person I heard call (COVID-19) that is Donald Trump," he said. "And after he made those comments, hate crimes rose significantly."
Karallas couldn't grasp that Rapp had a different take on usage of the term.
"He still sees no wrong with it," Karallas said. "I really do want him just to learn, to actually see the perspective on why it's not okay."
Purdue graduate student Nagi Fujie, who runs a Japanese after-school program, complained on Facebook that the Rapp situation "is NOT okay" and "needs more attention."
"[Rapp] is not actually understanding how his choice of word was very offensive and harmful," Fujie wrote. "I think if he listens, learns, and understands his mistake, with proper apology with future plans to fix his mistakes, I would then say the case is actually resolved. But him changing the word on syllabus (while it is better than nothing) alone is not enough to solve the root problem."
Fujie, Karallas and others also are miffed at Rapp's office door decorations because they "poke fun" at the notion of "safe spaces."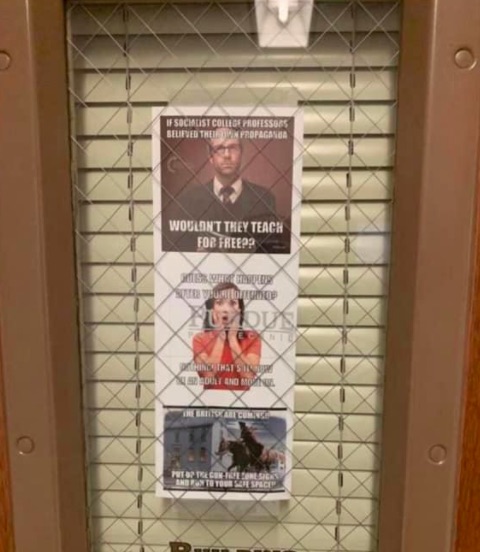 "[Rapp] making fun of safe spaces creates a negative connotation towards safe spaces, as if safe spaces are shameful – when they are actually very helpful and impactful," Fujie said.
A Purdue spokesman declined to comment on the matter, citing "employee privacy concerns."
MORE: Professor put on leave, under investigation for using term 'Wuhan Flu'
IMAGES: Cleaning Industry Research Institute/Twitter screencap; Nagi Fujie/Facebook screencaps
Like The College Fix on Facebook / Follow us on Twitter