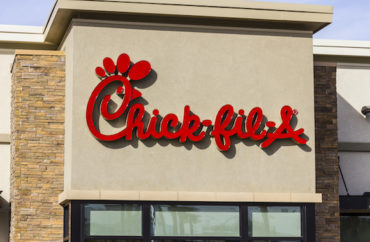 Purdue University is holding fast against student and faculty opposition regarding a permanent location for a campus Chick-fil-A restaurant.
Resistance to the popular fast food joint is due mainly to the company owner's (biblical) view on traditional marriage. Purdue opponents said Chick-fil-A "needed to reacclimate itself with the proper way to treat its LGBT students and staff."
Nevertheless, the restaurant already has been on campus for a year via "pop-up"-style eateries at various locations.
According to the Lafayette Journal & Courier, there is "overwhelming demand" for a permanent Chick-fil-A presence on campus, and the franchise owner will be a female Purdue graduate who "has signed and observed a commitment of equal access and treatment in her employment and service practices."
In a statement, Purdue said
While we respect and protect the rights of all to express their opinions at Purdue, this clarification is intended to reassure our students and others that this long-requested dining option will not be taken from them and to dispel any impression that Purdue would ever seriously consider such an action.

We would not be promoting choice and freedom by depriving thousands of people in our community of a choice they have long sought and are already taking advantage of in large numbers. And, we would not be practicing inclusion by excluding a completely legitimate business and its staff from our campus.
A University Senate Equity and Diversity Committee proposal to be voted on October 21 requests business ventures associated with the university "uphold the same values and promote inclusivity with their policies, hiring practices and actions."
Professor Linda Prokopy, a member of the committee, said she was "extremely disappointed that Purdue is not standing behind [the] diversity statement," and that officials were allowing a company on campus "that seeks to hurt [gays]."
Vice Provost for Diversity and Inclusion John Gates said the new franchise owners will be "bound by Purdue's non-discrimination policy statement," and the university "look[s] forward to them respecting our institutional core values of integrity, honor, respect, inclusion, innovation and growth."
MORE: Chick-fil-A faces steep opposition from Purdue faculty, students
MORE: Blocked from some schools, Chick-fil-A still thrives on many campuses
IMAGE: Jonathan Weiss / Shutterstock.com
Like The College Fix on Facebook / Follow us on Twitter