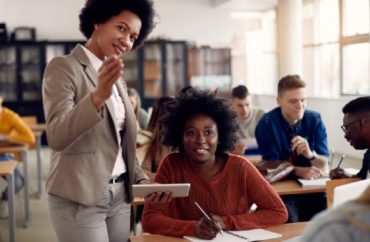 Quotas and 'anti-racist' training would help the problem, researchers argue
University leaders can "advance racial and gender equity in the United States," through the use of hiring and admission quotas, according to a new report from Georgetown University's Center on Poverty and Inequality.
The report, authored by law professor and interim center director Laura Tatum and the center's policy analysts Vincent Palacios, Natalia Cooper and Siddhartha Aneja, found that "postsecondary educational systems continue to amplify inequities in our society through segregation by race and gender within higher education—which contributes to segregation later in the workforce—harming individuals, communities, and our economy."
The authors further address what they term, "occupational segregation," and its linkage to "field of study segregation."
Their report argued that "segregation in degree-seeking undergraduate students by gender and race … eventually contributes to segregated occupations."
The proposed policies include racial and gender quotas, reparations, removing meritocratic elements from university policy and mandatory "anti-racist" training.
The report called on leaders to "invest in interventions to improve representation of women and people of color among faculty at all public postsecondary institutions."
The authors believe that such initiatives would ensure more black and female students "have the opportunity to attend graduate school and become faculty."
Under the report's guidelines, "structurally excluded students" would receive resources and opportunities unavailable to white-male and other non-marginalized students, such as "formal mentorship programs," "academic supports," "summer experience or 'bridge' programs," "[s]ubject-specific tutoring" and other "supportive services."
MORE: Penn Law won't share black student performance data after punishing professor
The report also advocated the removal of meritocratic measures from universities to help racial minority students.
Universities should not, for example, exclude students from certain studies based "on low grade point averages" or place "weed-out" courses in their curricula, because these practices "disproportionately prevent structurally excluded students from majoring in the most lucrative fields," according to the researchers.
"Reparations," paid to historically black colleges and universities to account for "decades-long disparities in funding," are also recommended. The authors wrote that "HBCUs are remarkably efficient at educating structurally excluded students in competitive fields with high occupational segregation."
Finally, the report called for "anti-racist" and "implicit-bias" training to combat "field of study segregation."
"Faculty across disciplines—including traditionally white-male- dominated subjects like STEM and economics—can teach with an anti-racist, feminist approach to course materials, readings, discussion topics, and guest speakers to make their courses as inclusive of structurally excluded students as possible," according to the report.
Additionally, the authors suggested that there "should be anti-racist training for faculty, with accountability for implementation."
"Departments should train their administrators and faculty members to be knowledgeable about the role of implicit bias," the report added.
None of the researchers on the report nor the poverty research center responded to multiple requests for comments on the proposed solutions.
Affirmative action hurts racial minorities, UCLA professor says
A UCLA law professor who has conducted significant research on affirmative action and its harm criticized the report and its suggestions.
Professor Richard Sander told The Fix that the "report is a particularly egregious example of so-called 'research' on gender and racial disparities." Sander is a leading proponent of the "mismatch theory," the idea that affirmative action hurts the people it is supposed to benefit by pushing them into programs for which they are not academically prepared.
"[The report] assumes that all departures from proportional representation reflect invidious discrimination that must be fixed with more aggressively interventionist policies," Sander said in an email to The Fix.
The study "ignores a long line of unrebutted research showing that to a very large degree, simplistic past remedies for underrepresentation in STEM fields are a major contributor to current disparities."
"Large racial admissions preferences generate a problem known as 'science mismatch,' in which students find themselves competing with other STEM students with stronger preparation and higher credentials, and thus are at a significant competitive disadvantage," he told The College Fix.
Sander said that "[s]cience mismatch produces lower grades, higher rates of STEM attrition, and lower rates of graduation than these students would have achieved had colleges admitted them without using race as a large 'plus' factor."
"The U.S. Civil Rights Commission has extensively investigated and documented this problem, but the Georgetown authors seem completely oblivious to this fundamental problem that both drives many of their findings, and that will be aggravated by some of their supposedly well-intentioned solutions," he concluded in his comments.
MORE: Professor's anti-affirmative action tweets spark outrage
IMAGE: Dragen Zigic/Shutterstock.com
Like The College Fix on Facebook / Follow us on Twitter