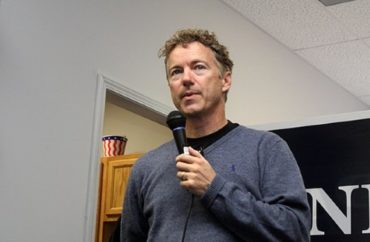 '[F]inancing education is already hard enough, and Uncle Sam doesn't need a cut,' Paul said
Senator Rand Paul has introduced legislation that allows for a 100 percent deduction for education expenses for all years, kindergarten through college.
The Tax-Free Education Act remains pending in the Senate Finance Committee as of December 9.
The legislation would "provide a 100 percent tax deduction to anyone who pays for college or K-12 tuition and associated expenses," according to the Kentucky Republican's office. It allows for a tax deduction for someone who pays for expenses for a student, such as parents or grandparents.
The new legislation is "a commonsense, pro-taxpayer plan that makes college or K-12 tuition and associated expenses 100 percent tax free," according to an email from Paul's press team to The College Fix.
"The far-left touts free college for all, but in economic reality, nothing is free in life, and taxpayers will end up footing the bill," his media team said. "The Tax-Free Education Act is the only fiscally responsible, realistic solution in making all education – 4-year universities, community colleges, vocational schools, and K-12 – more affordable."
"My plan allows people to pay for college with pre-tax dollars and would be available to anyone who is helping pay for college – grandparents, aunts and uncles, and family friends," the libertarian Senator said in a statement. "This empowers the American people to pay off school debt and realize the dreams they studied hard to achieve."
Education analyst says federal government shouldn't be in student loans
However, the libertarian Cato Institute is skeptical of the legislation because it would still involve the federal government in higher education.
"[There's no mechanism in the Constitution for the federal government to get involved in college loans," education analyst Collen Hroncich told The Fix during a December 2 phone interview. She said many of the issues surrounding student loans are caused by the federal government though she said Senator Paul has good intentions and his proposal is "better than what is going on now."
Hroncich also believes that many colleges are culpable for student debt because they have spent money on facilities and other expenses which are unnecessary.
She said that "there's no accountability to any of this money" from the federal government, adding "they have to spend it on something."
While Hroncich believes some targeted aid for student loans could work, she does not believe it should come at the federal level.
Researchers from the Brookings Institution have called for full student debt cancellation.
They believe that this is an issue of racial equality because on average, black college graduates owe nearly twice as much in student loans as their white counterparts.
The liberal think tank did not respond to a request for comment on the legislation. The Fix reached out three weeks ago to the media team and asked for comment from a education expert but has yet to receive a response.
MORE: Taxpayers would lose nearly half a trillion from unpaid student loans
IMAGE: Gage Skidmore/Wikimedia Commons
Like The College Fix on Facebook / Follow us on Twitter