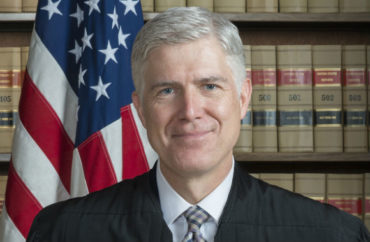 Gorsuch and Sotomayor plant the seed for a future argument
One of the biggest criticisms of the Trump administration's proposed Title IX regulation – aided by inexcusably bad reporting – concerns its mandatory cross-examination in sexual-misconduct cases where credibility is a factor.
The questioning would not be done directly by the accuser and accused, but rather their advisors, and it could happen in separate rooms, as long as adjudicators can see and hear the questioning in real time.
As noted in City Journal by Brooklyn College Prof. KC Johnson, co-author of The Campus Rape Frenzy, the "spine" of the proposed regulation is more than 100 court rulings against colleges in  lawsuits by accused students. The cross-examination provision, for example, is practically lifted from the recent precedent of the 6th U.S. Circuit Court of Appeals.
Rape-culture activists, who believe the mantra #BelieveAllWomen is an adequate substitute for basic fairness in Title IX proceedings, seem to think that questioning of any kind is biased against accusers. It re-traumatizes them – even if they aren't "victims" at all.
That's the point of cross-examination – to test if someone is not telling the full truth, to say nothing of baldfaced lying.
Two Supreme Court justices from opposite sides of the ideological spectrum want the court to finally settle the issue of just what the Constitution's confrontation clause requires.
For the sake of their warped view of justice, rape-culture activists had better hope the justices' reasoning doesn't catch on with their colleagues.
Justices Gorsuch and Sotomayor faulted SCOTUS for denying cert to a woman with a compelling case that her right to cross-examination was violated.

Food for thought in light of hostility to this principle many have expressed in re OCR's new #TitleIX regs. https://t.co/Gi3ku9zWv0 pic.twitter.com/pjXUVauGTp

— Peter Bonilla (@pebonilla) November 19, 2018
A muddled Supreme Court ruling that sounds like Obama's Title IX guidance
Justices Neil Gorsuch and Sonia Sotomayor issued a dissent Monday from the court's refusal to accept a case involving a woman who was convicted based on the allegations of a woman. (Four justices must vote to accept a case.)
It's not a sexual assault case, but it could just as easily apply in a Title IX proceeding.
According to Kevin Daley at The Daily Caller News Foundation, an Alabama jury convicted Vanessa Stuart of manslaughter and driving under the influence after a state toxicology report estimated her blood alcohol content was about twice the legal limit when she hit and killed another driver:
On appeal, Stuart said her constitutional right to confront her accuser was violated at trial. Though prosecutors introduced the toxicology reports into evidence and called a laboratory supervisor named Jason Hudson to testify as to their contents, the forensic scientist who conducted the BAC tests [Belicia Sutton] never took the stand. A 2011 Supreme Court decision called Bullcoming v. New Mexico forbids this kind of "surrogate testimony."
For a college analogy, imagine a Title IX coordinator's superior (say, the dean of students) was called to testify about the coordinator's presented evidence. An accused student would have no opportunity to question the coordinator on how evidence was collected, what was left out, expressions of bias and such. (Remember the "motherfucker" comment at USC?)
Stuart claims the Sutton-Hudson switcheroo was flatly unconstitutional – Hudson didn't even live or work in Alabama when the blood was tested. But Alabama argues these toxicology reports weren't evidence of guilt, so they are covered by a Supreme Court ruling from a year after Bullcoming.
Writing the dissent that Sotomayor joined, Gorsuch reminds the other seven justices that even forensic evidence is not inherently unimpeachable: Beyond plain testing errors, it can be manipulated under pressure or via "incentive," or the analyst can be insufficiently trained.
The only person whose testimony is relevant to Stuart's conviction – "the witness who supplied a foundational piece of evidence in her conviction" – is Sutton, Gorsuch writes: "The engine of cross-examination was left unengaged, and the Sixth Amendment was violated."
And it's the Supreme Court's fault, he continues, for giving Alabama an excuse to violate the confrontation clause.
It concluded 2012's Williams v. Illinois without a majority opinion, and though "its various opinions have sown confusion in courts across the country … at least five Justices rejected" the logic of the plurality opinion:
After all, why would any prosecutor bother to offer in evidence the nontestifying analyst's report in this case except to prove the truth of its assertions about the level of alcohol in Ms. Stuart's blood at the time of the test? The whole point of the exercise was to establish—because of the report's truth—a basis for the jury to credit the testifying expert's estimation of Ms. Stuart's blood-alcohol level hours earlier.
Alabama argued that Stuart didn't have the right to confront her accuser anyway because the BAC report wasn't "testimonial," but the various opinions from the Williams court revealed that even more justices – eight out of nine – rejected this rationale, Gorsuch writes.
Whether the report was primarily prepared for "accusing a targeted individual" in custody, or "for investigatory purposes without a target in mind," Stuart was indeed in custody when the test was conducted, and it was "prepared for the primary purpose of securing her conviction," the justice continues.
Gorsuch's call for his colleagues to clean up the mess they created, despite the context of criminal law, sounds a lot like Education Secretary Betsy DeVos's* justification for rescinding her predecessor's Title IX guidance and starting an actual rulemaking.
She said the Obama administration's supposed rules, which never went through a rulemaking, created massive confusion in colleges, their legal force was dubious, they muddied up clear precedent (the Supreme Court's sexual-harassment standard in education), and they actively interfered with the pursuit of truth by heavily restricting cross-examination.
The consequences of being found responsible for sexual assault, while not as severe as a criminal conviction, are still serious enough to permanently ruin a person's professional, social and financial lives.
Should the proposed Title IX regulation make it through notice and comment without meaningful changes to its cross-examination provision, rape-culture activists might want to think twice before challenging it in court.
By the time it could reach the Supreme Court, Gorsuch's exalted view of cross-examination might have swayed more than just Sotomayor.
MORE: Title IX regulation would mandate cross-examination via advisor
IMAGE: Public domain
Like The College Fix on Facebook / Follow us on Twitter