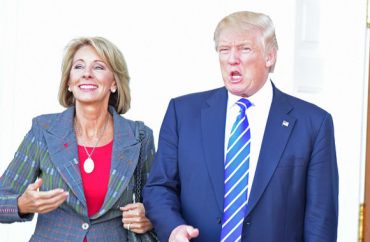 Threatened lawsuit? 'Requiring false pronoun usage by teachers is a compelled speech violation'
President Trump's Department of Education won't necessarily open an investigation of a school that refuses to let students use the bathroom or locker room that matches their gender identity.
But it will crack the whip on schools that don't call such students by their preferred names and pronouns.
Acting Office for Civil Rights chief Candice Jackson released "Instructions to the Field" regarding complaints by transgender students that say failure to call transgender students by the names and pronouns they request is "gender-based harassment."
It qualified this statement, however, by saying OCR has jurisdiction to investigate only "when the school uses preferred names for gender-conforming students or when the refusal is motivated by animus toward people who do not conform to sex stereotypes."
Such behavior also must create "a hostile environment." The instructions, dated June 6, aren't clear whether students who refuse to call transgender peers by their preferred names and pronouns – perhaps simply declining to use pronouns at all – could be grounds for an OCR probe.
Jackson urged staff to find ways to keep complaints alive: "It is permissible, for example, for one allegation in a complaint (such as harassment based on gender stereotypes) to go forward while another allegation (such as denial of access to restrooms based on gender identity) is dismissed."
Exactly how the administration will treat bathroom complaints is unclear from the instructions. The letter simply says staff should "rely on Title IX and its implementation regulations" as well as court decisions and OCR guidance documents that remain in effect, unlike the Obama administration's revoked 2016 transgender bathroom directive.
MORE: Ignorant reporting on Trump's transgender bathroom reversal
"An employee familiar with" the new instructions told HuffPost he interpreted them as a return to the rules that predated the previous administration's rules.
OCR chief Jackson said in a statement that investigators should "individually examine every complaint" and "not make the mistake of assuming that just because this particular guidance has been rescinded that all complaints by transgender students are going to be dismissed by OCR," according to the Los Angeles Times.
Religious liberty law firm Liberty Counsel is howling at the new instructions regarding "so-called transgender students," saying in an email blast Tuesday the government gets a "failing grade":
"Title IX does not require a school district or teacher to call students by false gender pronouns," said Mat Staver, Founder and Chairman of Liberty Counsel. "Title IX is silent regarding the use of pronouns, and it cannot be a violation to refer to students by pronouns consistent with their actual sex. Requiring false pronoun usage by teachers is a compelled speech violation for teachers and compelling students to participate in a lie violates their right to free speech. I thought we had seen the last of this nonsense coming out of the Department of Education. I call upon Betsy DeVoss [sic] [*] to end this new policy," said Staver.
Unsurprisingly, the former chief of OCR – who has launched an investigation of the Trump administration's civil rights enforcement from her perch at the U.S. Commission on Civil Rights – finds the new instructions deplorable, according to the Times:
Catherine Lhamon, who wrote Obama's transgender rules, says the new letter is "dangerous" for transgender students because it provides language for officers to dismiss cases before they even investigate them. "It says you have jurisdiction over sex discrimination and sex stereotyping, but here's how you could dismiss it," she said. "They can't have it both ways."

She added that she has heard about bathroom-access cases that have been filed and closed without an investigation since the June letter was issued.
Read the instructions and HuffPost and Times stories.
MORE: Former OCR chief tries to take down Betsy DeVos
Like The College Fix on Facebook / Follow us on Twitter
IMAGE: a_katz/Shutterstock