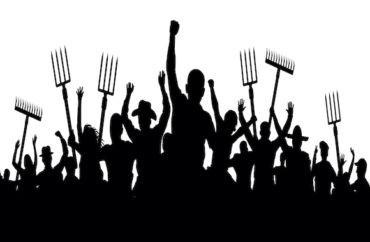 The degree of absurdity of contemporary "cancel culture" seemingly knows no limits as the very latest example demonstrates.
A black female school principal in Chicago is facing calls to resign because — get this — she advised potential George Floyd protesters not to "participate in violence or looting," and said that the best way to facilitate change is "to get a degree and get a 'seat at the table.'"
A Change.org petition started by "Disappointed Alumni" claims "it is very clear" that Principal Joyce Kenner "does not represent all of her students well."
"[Kenner] has silenced student activists speaking against all forms of injustice," the petition states. "Her silence and her enabling of the systematic oppression that her Black and low-income students face should be condemned."
Kenner, who previously worked for Jesse Jackson's Rainbow PUSH Coalition, said it's "nonsense" to claim she doesn't support Black Lives Matter, and noted she has "never tried to silence a student."
Indeed, after initially vetoing a graduation video featuring a student singing the National Anthem while holding up a picture of George Floyd, she reversed course after meeting with students and listening to their points of view.
Kenner also rankled some folks by noting she is against removing police officers from school buildings, citing the 1999 Columbine High School massacre as a big reason why.
In a normal world, Kenner's words and actions would be not the least bit controversial. But we're not living in a normal world at present. In fact, one could argue it's downright insane.
For instance, a UCLA professor was placed "on leave" for allegedly not adhering to the school's "core principals" of "respect" and "equality." His infraction? He refused to alter his syllabus and schedule for black students only.
A ten-year Rowan University employee recently was dismissed from his position because, as a local cop 26 years ago, he shot and killed a black teen who had attacked him with a knife. A grand jury had refused to indict him, and the Clinton Justice Department declined to take up the case.
During my last year of teaching, an African-American student asked me if Donald Trump would bring back slavery if elected. After quelling the guffaws of the student's classmates, I explained that the chances of that were non-existent, and besides, a thing called the 13th Amendment means a president couldn't just start up slavery again any time he wanted to.
If this rather innocuous back-and-forth had occurred last week, would there have been calls for my resignation?
MORE: Members of Elon College Republicans dismissed for 'insensitive' comments
MORE: ASU dean offer revoked after police-supporting tweet
IMAGE: Nosyrevy / Shutterstock.com
Like The College Fix on Facebook / Follow us on Twitter