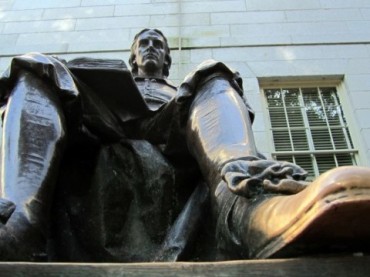 The Harvard Crimson headline reads: "Harvard Faculty Donate to Democrats by Wide Margin." Yeah, you could say that.
"Eighty-four percent of campaign contributions made by a group of 614 Harvard faculty, instructors, and researchers between 2011 and the third quarter of 2014 went to federal Democratic campaigns and political action committees," the Crimson campus newspaper reported Thursday.
"Ninety-six percent of donations in the data set from the Faculty of Arts and Sciences, which includes Harvard College, supported Democratic efforts. That figure was even higher—nearly 98 percent—at Harvard Law School," the article continued. "Harvard Business School was the most Republican, with 37 percent of its contributions supporting Republicans and 62 percent going to Democrats."
Yet it was in Harvard Business School where the university's top donor could be found; Professor Arthur Segel donated $165,175 in the three-year time period, overwhelmingly to Democratic campaigns and organizations, the Crimson notes.
The public filings represent nearly $3 million in donations to federal campaigns and candidates, the 2,300-word investigative report stated.
"The data supports the commonly held belief that Harvard's professoriate is largely liberal, raising questions about the ideological diversity of the faculty and what impact that may have on teaching and research," the Crimson concludes.
Government professor and Republican Harvey Mansfield, the Ivy League school's token conservative, told the Crimson that "the only debate we get here is between the far-left…and the liberals. It gives students a view that a very narrow spectrum of opinion is the only way to think."
And Harvard is far from unique.
Prior to last November's midterm elections, a College Fix analysis of professors' campaign contributions to California lawmakers found that about 95 percent of their donations went to Democratic politicians. In effect, contributions by professors to Democrat lawmakers outweighed donations to Republican ones by 22 to 1.
And in 2012, a list of the top 20 donors to Obama had the University of California system on top, with its educators giving nearly $1.1 million to the president's re-election bid. Harvard University came in fifth place at about $600,000 in donations, with Stanford University right behind in seventh place at $532,000. That same year at Princeton University, 99 percent of donors gave to Obama.
It's a long and established tradition.
Take the University of Michigan, where between January 2009 and October 2010, approximately 87 percent of teaching faculty donations went to Democrats or Political Action Committees that benefit progressive causes. That year, a similar trend was found at Georgetown.
However, once in a great while a university bucks the trend. In a rare anomaly, somehow Boston College gave more to Republicans in 2010. In 2008, however, 94 percent of faculty donations at Boston College went to Democratic campaigns.
Jennifer Kabbany is editor of The College Fix (@JenniferKabbany)
Like The College Fix on Facebook / Follow us on Twitter
IMAGE: Main, Wally Gobetz/flickr
Like The College Fix on Facebook / Follow us on Twitter