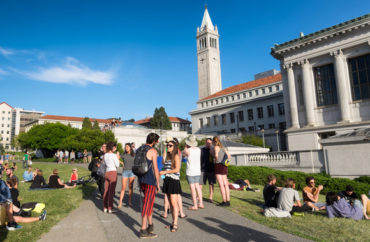 Chancellor says 'widespread testing' and 'isolation capability' key factors
The University of California will not be "fully" re-opened this fall, according to a report in The California Aggie, with the system chancellor stating that the school will be basing its decisions on pandemic mitigation efforts such as tracking down people who may have the disease and quarantining them.
The university system was closed down by mid-March as the pandemic began to spread in that state and across the United States. Like schools across the country, the University of California has been debating whether it will re-open in the fall or continue with distance and virtual education.
Last week University of California President Janet Napolitano said that "none of [the system's] campuses will fully reopen." She said numerous campuses were "exploring is a mix, where there will be some material delivered in a classroom or lab setting, so-called wet labs, and other classes will continue to be online."
U.C. Chancellor Gary May told The Aggie this week that the school's Davis campus "has two task forces currently working on ensuring the safety of a potential return to campus in a 'thoughtful and measured manner'," the paper reported. The re-opening "will be subject to local and statewide guidelines implemented by public health authorities."
"The keys to this will be the availability of widespread testing, [contact] tracing, and isolation capability (including social distancing, masking, and quarantining)," May said.
The relatively staid pronouncements from U.C. officials comes in marked contrast to numerous other major universities that have vowed to bring students back starting in August. Purdue University last month announced it would be re-opening in the fall, with the school's President Mitch Daniels citing data which shows that "the COVID-19 virus, while it transmits rapidly [among students], poses close to zero lethal threat to them."
Texas A&M University, the University of Texas, the University of Georgia, Wheaton College, Radford University, Virginia Commonwealth University and numerous other schools have also announced plans to bring students back for in-person instruction in the fall.
MORE: Harvard students not likely to return at beginning of fall, says Bacow
IMAGE: cdrin / Shutterstock.com
Like The College Fix on Facebook / Follow us on Twitter