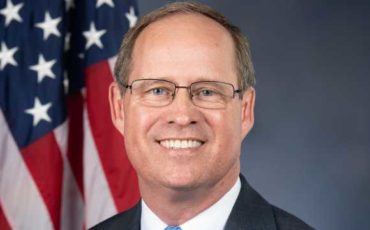 Universities have 'moral obligation' not to invest in companies connected to human rights violations, lawmaker says 
A Republican congressman has asked top universities to disclose whether their endowment funds are invested in companies defined by the U.S. as "adversarial entities" because of involvement with human rights abuses in foreign countries.
Congressman Greg Murphy of North Carolina sent a letter June 9 requesting divestment to 15 private colleges and universities with the largest endowments, including Harvard, Princeton and Yale, according to a news release from his office.
Murphy (pictured) gave universities until June 23 to respond to his letter. He is also working on legislation to limit the ability of universities to invest in Chinese companies with unethical business practices.
Murphy's letter names the Chinese Communist Party and Russia as perpetrators of human rights violations such as "imprisonment of Uyghur Muslims" and "the Russian Federation's horrific invasion of Ukraine." According to Murphy, these governments have ties to companies in which colleges should not invest their money.
Since universities "receive the significant benefit of tax-exempt status, they have a moral obligation not to use their endowments to invest in companies that contribute to human rights violations and are detrimental to the national security of the United States," Murphy stated in the letter.
The College Fix emailed Luke Wallwork, whom the letter requested the universities contact, at Murphy's office on June 27. Wallwork responded that he forwarded the email to Murphy's press team on June 28. The Fix was unable to reach the press team or Wallwork after this email.
The Fix also spoke to a staffer by phone at Murphy's Jacksonville, North Carolina, office on July 6 who said that Murphy was planning to send a second round of letters to the universities, and that the press team would respond that afternoon. The Fix has received no response as of July 6 and was unable to reach Murphy's D.C. office by phone.
It's important to hold colleges accountable for their investments, according to one national security expert.
"The [Chinese Communist Party's] ability and willingness to acquire influence within American higher education is part of a broad 'whole-of-society' approach," Kyle Shideler told The Fix via email.
It's part of the CCP's plan to "conduct intelligence and influence operations against the United States," the Center for Security Policy expert told The Fix.
"Large numbers of investment funds have some, often considerable, exposure to Chinese companies as part of their portfolio," Shideler wrote. "Thus it's highly likely that university endowments will have similar exposure."
Universities confirmed receipt of the letter but have not announced changes
"University spokesperson Jason A. Newton confirmed that Harvard received Murphy's letter, but declined to comment further," according to a June 18 article in The Harvard Crimson.
Harvard does not hold direct investments in Russian companies, Newton told The Crimson in March 2022.
Newton told the campus paper, "like all investors, we do not have complete transparency into every investment made by third-party managers, but we believe there are no material indirect holdings with Russian corporations."
The College Fix reached out to Harvard's media team three times via email in the last week and asked if the university ever complied with the congressman's request, which listed June 23 as a deadline, but received no response.
Yale, in a statement in January, before Congressman Murphy sent his letter, stated it "will begin investigating companies in China to determine whether some may be deemed ineligible for Yale investment in light of the Chinese government's widespread human rights violations."
"My intuition is that there'll be a range of activities among companies and that some might be eligible for divestment," Jonathon Macey, chair of Yale's Advisory Committee on Investor Responsibility, said in an interview with the Yale Daily News.
The College Fix also reached out to Karen Peart, director of University Media Relations at Yale, over email and asked if the university had any updates on the investigation, but received no response.
The Fix also reached out to Princeton's Office of Communications over email to ask whether it had complied with Murphy's letter but received no response.
MORE: Former instructor sentenced to a year and a day for lying about patents in China
IMAGE: Congressman Greg Murphy, MD/Facebook
Like The College Fix on Facebook / Follow us on Twitter