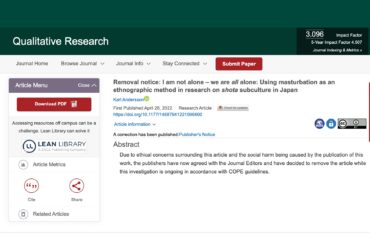 Article was taken down due to 'ethical concerns' and 'social harm'
The scholarly peer-reviewed journal Qualitative Research, published by Sage Journals, removed a paper on using masturbation as a research method shortly following an investigation launched August 9, according to an updated notice on the journal's website.
The paper's former webpage now hosts a "Removal Notice" appended to the article title, "I am not alone – we are all alone: Using masturbation as an ethnographic method in research on shota subculture in Japan."
The notice reads, "Due to ethical concerns surrounding this article and the social harm being caused by the publication of this work, the publishers have now agreed with the Journal Editors and have decided to remove the article while this investigation is ongoing in accordance with [Committee on Publication Ethics] guidelines."
The controversial paper, in which a humanities PhD student describes masturbating to Japanese pornographic illustrations featuring underaged boys, was published in April and more recently prompted criticism and ridicule by scholars, politicians and many others. It was written by University of Manchester humanities graduate student Karl Andersson.
"I wanted to understand how my research participants experience sexual pleasure when reading shota, a Japanese genre of self-published erotic comics that features young boy characters," Andersson wrote in the abstract to the paper, his first published academic article, according to Inside Higher Ed. "I therefore started reading the comics in the same way as my research participants had told me that they did it: while masturbating."
"I would masturbate in the same way that my research participants did it," Anderson continued in the article. "After each masturbation session I would write down my thoughts and feelings—a kind of critical self-reflection—in a notebook, as well as details about which material I had used, where I had done it, at what time, and for how long."
The removal came shortly following an announcement last week that the paper was being probed by the publisher for ethical concerns.
Paper decried as unethical as well as bad scholarship
Academics expressed concern about the journal's ethical judgment in publishing a paper that described masturbation to comics featuring underage characters and apparently non-consensual encounters.
"This entire article describes the author masturbating to drawn child sexual abuse material," Michael Salter told ResearchProfessional News. Salter is a professor at the University of New South Wales, in Australia, who studies child abuse. "He describes his arousal to sexual scenes featuring 'very young boys'. How was this written, reviewed or published?"
Harborough Member of Parliament Neil O'Brien wrote on Twitter: "Why should hard-working taxpayers in my constituency have to pay for an academic to write about his experiences masturbating to Japanese porn?"
Why should hard-working taxpayers in my constituency have to pay for an academic to write about his experiences masturbating to Japanese porn?

The non-STEM side of higher education is just much too big, producing too much that is not socially useful.https://t.co/MPCGU4slLE pic.twitter.com/ctJQYyoa5p

— Neil O'Brien MP (@NeilDotObrien) August 10, 2022
Elizabeth Chin, professor media design practices and at ArtCenter College of Design in California, told Inside Higher Ed that the paper is a "trash fire."
The "lack of critically engaged conversation about the author's own sexuality, race and subject position is a huge problem, especially for an autoethnography, and then even more so for a white guy doing work among Japanese," Chin continued.
Chin "also bristled at the 'sort of substitution of self for the research subject' in Andersson's paper (a highly unusual approach), especially as he reveals so little about his identity," according to Inside Higher Ed.
"There is no compelling theoretical proposition or argument, and the takeaway is pretty nonexistent," Chin said. "Seems designed pretty much for shock value."
MORE: Journal launches probe into PhD student's paper on masturbating to images of underaged boys
IMAGE: Sage Journals screenshot
Like The College Fix on Facebook / Follow us on Twitter