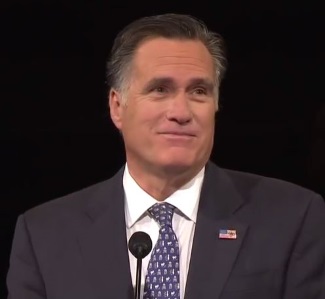 It never ceases to amaze me how people who pretend to be champions of the poor are often quite greedy, and those who are accused of being capitalist pigs can be some of the most generous and compassionate among us.
The latest case in point can be illustrated with Mitt Romney and Hillary Clinton.
When Clinton visits a campus for a speech, she charges upwards of $300,000, and with it a long list of demands that would make a pop music diva blush.
But now comes word that Mitt Romney is set to speak at Mississippi State University. His price? $50,000.
The Washington Post reports:
Mitt Romney will charge Mississippi State University $50,000 to deliver a lecture on campus next week, most of which will go to charity — a dramatically lower fee than the $250,000 to $300,000 Hillary Rodham Clinton requires for her university lectures. …

The former secretary of state's speaking fees at universities have typically also gone to a family-connected charity — in her case, the Bill, Hillary & Chelsea Clinton Foundation. However, her high fees have drawn campus protests and sharp criticisms from Republicans, who have said they demonstrate a likely presidential candidate who has grown out of touch.
More than out of touch, her fees represent an entirely different mindset, one of entitlement and greed. What's more, we can't even prove she IS donating her money to their family foundation.
Plus, some nonprofit experts consider these skyhigh campus fees of Clinton's sort of a work-around of campaign finance laws, not from Clinton's end – but from a donor perspective. But you don't see Clinton batting an eyelash at that.
Meanwhile, here's the Romneys, The Washington Post reports Mitt will donate his fee to Charity Vision … all he asks is travel expenses:
Romney has long been a supporter of Charity Vision, a Provo, Utah-based organization that provides medical care to people in the developing world. The group's president is one of Romney's sons, Josh.

In 2013, Mitt and Ann Romney, along with their family and friends, traveled to rural Peru on a mission for Charity Vision. There, they helped conduct eye exams for local villagers, including many children. In a video promoting the trip, Mitt Romney described eye screenings at a local school.
Contrast that with the fact that Hillary Clinton has not driven a car since 1996. A real woman of the people, huh?
Jennifer Kabbany is editor of The College Fix. (@JenniferKabbany)
Like The College Fix on Facebook / Follow us on Twitter
IMAGE: YouTube screenshot