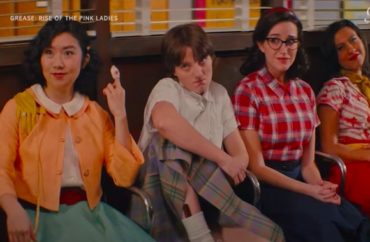 I'm not a fan of movie musicals by any stretch of the imagination, but there is one I can watch over and over: "Grease."
The 1978 classic starring John Travolta and Olivia Newton-John (RIP) is virtually perfect; Travolta was coming off Saturday Night Fever, which catapulted him to super-stardom, while Newton-John already was a well-established pop singer.
Coupled with a killer soundtrack that included the number-one hits "Grease" and "You're the One That I Want," the film was destined for, and got, iconic status.
Given its popularity, it was inevitable that the powers-that-be would want a sequel. Thus, "Grease 2″ debuted in 1982 and … was a total dud. Only one star arose from the musical miasma that is "Grease 2"; give yourself a gold star if you can name her (that specific pronoun should help).
Alas, many years later, some big brain at Paramount approached producer Annabel Oakes and inquired about making a prequel to "Grease." Oakes should've gone with her initial thought of "No! It's absolutely perfect [and] an important part of my and so many other people's childhoods [and] I am not interested in tearing this down" … because it's spot-on.
But … she couldn't resist.
Oakes said she began doing research and "started to get these amazing, beautiful, interesting and unexpected stories from people of all different walks of life […] ranging from 'popular girls' to 'radical lesbian feminists' and people of all races."
Oakes' research obviously didn't include the fact that Los Angeles-area schools, like the fictional Rydell High, weren't exactly diverse, at least not as portrayed in the 1954 setting of "Grease: Rise of the Pink Ladies" (and taking both Grease films into account).
MORE: Marvel Entertainment goes the social justice route (again)
But this is 2023! Historical accuracy is way down on the list of importance (see: Nikole Hannah-Jones) when there's a chance to explore "diverse storytelling around race and sexuality"!
"Rise of the Pink Ladies" reportedly explores "what it meant to be marginalized in the 1950s" as the show's main characters are "mainly women of color and queer women."
According to the Washington Examiner, the show "follows the Pink Ladies as they spark 'a moral panic that will change Rydell High forever' [and] will feature modern themes regarding race and sexuality."
Star Ari Notartomaso, who uses "they/them" pronouns, said Oakes indicated "Rise of the Pink Ladies" is "a love letter to the women of the '50s … it's also a letter to all the people who were not given the screen time in the original Grease, and really in media in general."
Oakes also said she wanted to "pay tribute to the real people who started rock & roll — black musicians, Latinx musicians, who were at the forefront," so the show's music will be "R&B with an amp."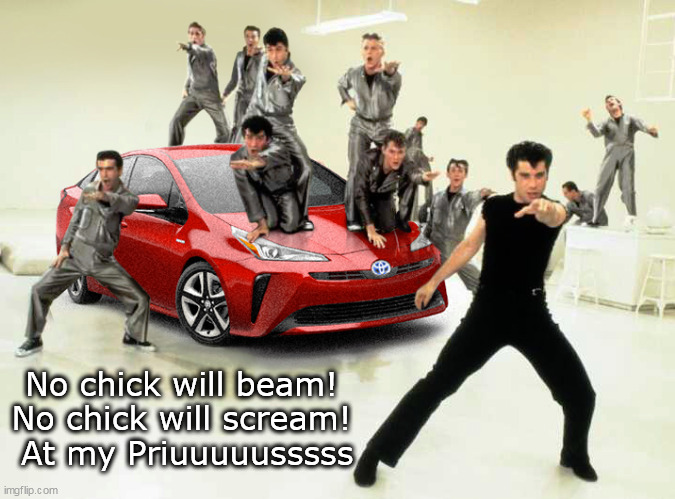 "We're just doing the work of looking at what Southern California might actually look like and telling some of those stories that didn't have a chance to be told," Oakes said last month.
So, instead of making an original program to "tell those stories," Oakes believes a reimagining of an entertainment classic (and actual history) will "appeal to the franchise faithful and […] reach new audiences."
Yeah, good luck with that. Or as Danny Zuko once said, "Rockin', rollin' and whatnot." Emphasis on the "whatnot."
Given the reported subject matter, maybe we'll see the following scenarios in the new series:
— Mrs. Murdock lectures the T-Birds about the environmental damage caused by their souped-up hot rod, and she yearns for a day when green-friendly vehicles will be available.
— Frankie Avalon guest stars to reimagine his classic "Beauty School Dropout" as the more inclusive "Cosmetologically Differently Othered."
— Freshman nerd Eugene Felsnic shows up to hold a "restorative justice" session with members of the T-Birds and others who have bullied him.
— Coach Calhoun goes to the school board to defend a trans female student's "right" to play on the girls' softball team.
"Grease: Rise of the Pink Ladies" debuts in April on Paramount+.
MORE: Race and gender bean-counting studies will ruin your entertainment
IMAGE: Paramount+ UK/Ireland YouTube screencap
Like The College Fix on Facebook / Follow us on Twitter